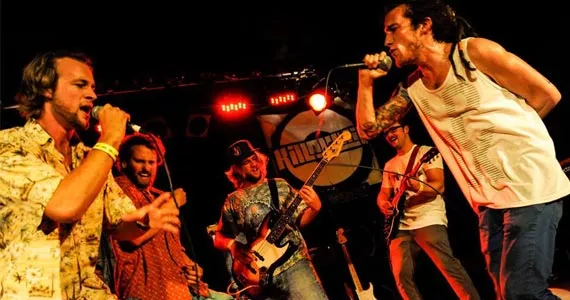 This is the time of year when you haul out memories of heat waves and sleeping on top of your sheets, not under all of the blankets you possess, hot water bottles embraced like childhood teddy bears. Desperately attempting to push realities of wet socks and numb noses out of the foreground with fantasies of days spent soaking up the sun with your skin and long humid nights sipping cold beverages.
After the frigid first week of 2014, Halifax's Dub Kartel, a live eight-piece band that blends world beats and hardcore reggae anthems, has just the tonic for your bones (and soul). Cold Smoke: A Frost Week Festival is a two-day dance party and music celebration at the Marquee. More than just a concert this will be "a gathering of what we believe to be the new generation---a younger generation of Haligonian musicians, I guess Dartmouthians as well," explains Dub Kartel's Kyle McCracken, who has brought together "great musicians and good people to put on a two-day festival, hopefully the first of many for the city."
Just below the surface, Cold Smoke is another reminder of what being an active band in 2014 means---a lot of hustle and self-created exposure and momentum. Dub Kartel takes a very DIY attitude to all aspects of their business and Cold Smoke is yet another manifestation of this drive. "We take it upon ourselves not to really outsource for anything as much as possible. Hands-on approach kind of thing," says McCracken. "It's such a do-it-yourself age."
Cold Smoke is not just a reggae fest, but a reflection of the diversity in the Halifax music scene. McCracken explains, "We're not trying to be exclusive in any way, as a small city with such a huge vibrant musical community, it just seemed like the thing to be doing. Having a couple days with a bunch of great musicians, all great friends of ours, it's really nice to be able to showcase all of them."
In that vein, Cold Smoke will feature a "big indie-rock scene on the Friday night with scrapes, Walrus and Take Part." Also on the bill for Friday's festivities will be The Caravan and The Wayo, who according to McCracken "bridge every single gap within the Haligonian small-band scene. They play a little bit of everything." Saturday's bill will hop and bounce the shivers out with Dub Kartel, Cam Smith, Weirdo Click, Dead Horse Beats and Zora the Sultan.
As the first full week of work in 2014 ends for most, and that third helping of turkey and stuffing doesn't seem like as excellent a decision in the cold light of the new year, the answer may just lie in what seems like an ancient tradition of survival in northern climes. Get together with friends and fellow revellers and dance and shake in sheer defiance of the cold, dark short days. As McCracken puts it, "the Dub Kartel promotes a smoke-filled atmosphere, everyone having a good time. Come in from -10 degree weather and be bombarded by this huge puff of humidity, it feels like July."
Who couldn't use a blast of tropical air, thick with humidity and sweat to shake awake the hibernating dance-floor-destroying beast living in all of us rejuvenating our spirits and souls? Now where's that other toque?
---
Cold Smoke - A Frost Week Music Festival
w/Dead Horse Beats, Dub Kartel, The Caravan, Cam Smith, The Wayo, Take Part, Weirdo Click, Walrus, Scrapes, Zora the Sultan
Friday, January 10 and Saturday, January 11 at 10pm
$15 per night/$25 weekend pass
Marquee Ballroom, 2037 Gottingen Street