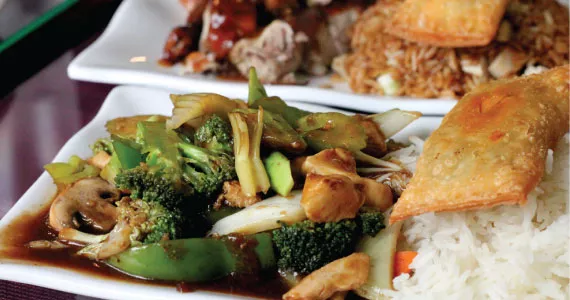 The snappy and tender Schezuan stir-fry leads the way.
The door to Hum's Kitchen sticks a bit when I try to open it. After almost tripping inside after a forceful push, my friend Rachelle and I are greeted and told to sit down anywhere we like in the almost empty dining room.
Hum's is a small, tidy restaurant. The chairs are solid, carved wood with plush cushions. The walls are a bright, grassy green with light wood wainscoting. The kitchen is partially open concept, which is a rarity for Chinese restaurants in Halifax.
As much as it's a new restaurant, there is something about the space—beyond the sticky, tricky door—that makes it feel like one that has been around forever. Part of that well-worn charm is doubtlessly the fact that Hum's Kitchen is a throwback to the classic Chinese-American restaurant, with a small menu that focuses on Cantonese and Szechuan favourites.
We're given laminated take-out menus, the edges wobbly from cutting with scissors. While it is a relatively small menu for a Chinese restaurant, there are some interesting highlights, especially when you get to the combination platters—while you have your sweet and sour chicken and chow mein, there are also options of barbecue duck, chicken and pork.
We decide to start with sweet chili bites ($9.95). This dish takes American-Chinese food to its basic level: fast food. It's just a pile of battered, deep-fried BBQ pork slices sitting on a light green sprinkle of shredded cabbage, served with Thai sweet-chili sauce on the side. It looks like a plate of chicken nuggets.
The batter is fluffy with a cakey sweetness that works well with the earthier sweetness of the hoisin and Chinese Five Spice flavours that edge the BBQ pork. Each bite is an explosion of grease, which the sweet-chili sauce cuts through with its sugary bite. The dish almost feels like an unfinished thought, though, so while it's a junky indulgence, it's also easy to tire of.
We focus on combo platters next. Rachelle gets the quarter barbecue duck ($13.95) and I get the Szechuan chicken ($12.95). Instead of the familiar sight of a standard round plate, halved with rice and protein and an egg roll tucked in, they serve their combos on modern rectangular plates, with the egg rolls balanced on the mound of either a no-nonsense steamed rice or an unremarkable fried rice.
As lifelong Atlantic Canadians, we are both are fans of meat-paste egg rolls, filled with a smooth pate-like filling. So we like the egg rolls here, the outside wrapper crisp and airy with bubbles, the inside a savoury, lightly spiced mush.
There is still a snap to all of the vegetables is the Schezuan stir-fry. The texture bounces from tender chicken to the clean crispness of celery and bok choy, with the flavours of slightly bitter florets of broccoli, or sweet carrot and onion giving a nice variety to each bite. Still, it's a bit disappointing due to the sesame-laced sauce, which is too sweet and lacks any noticeable heat.
The duck is a wrinkled mahogany with a shiny, lustrous texture, enhanced by a drizzle of sauce. There is a slight sameness to this sauce and that on the stir-fry—a lack of any burst of heat or acidity—but it registers as more savoury, though, closer to a basic oyster sauce. More crispness to the duck's skin would be nice, but the meat is moist and tender, and still has the slightest hint of pink in the centre.
There's nothing bad about our meal. But there's nothing great, either. To put a little too fine a point on it, it's ho-hum.
Read more reviews at thecoast.ca/restaurants
---
Hum's Kitchen
516 Pleasant Street, 902-431-6868
Mon-Fri 11:30am-10pm, Sat-Sun 4-10pm