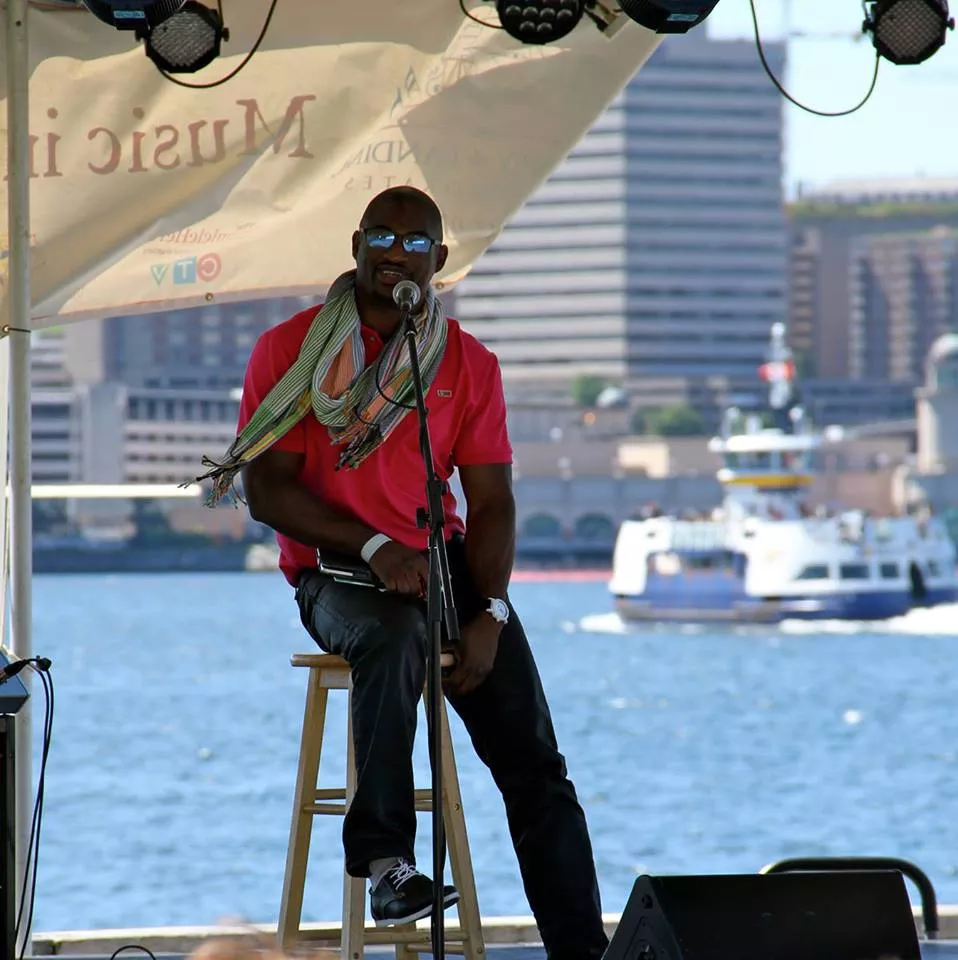 Michael Fisher during Prismatic Arts Week at Alderney Landing
Prismatic Arts Society and CommUNITY Spoken Word Series have made it official. No more furtive glances across the room, the two are on the books as a pair. Earlier this year the groups announced that CommUNITY's programming would be delivered by Prismatic Arts Society and hosted at the Alderney Landing Cultural Community Centre.
On October 5, (7pm, Alderney Landing) the 2013/2014 season of CommUNITY will launch at their new home. Titled "100 Candles. 10 Poets. 1 Mic" the launch features 10 spoken word artists (Shauntay Grant, Desiree Adams, Mary Lavers, Michael Fisher, Randy Henderson, Shahib Simp Gillard, Dominique Oliver-Dares, hermitofthewoods, Habiba Cooper Diallo and Verena Rizg) along with accompaniment by musician Matt Myer (Gypsophilia). Although the launch night doesn't have an open mic or slam component, every show for the upcoming season will, along with featured local and national performers.  
CommUNITY founder Shauntay Grant has worked with Prismatic Arts Society before, curating the spoken word component of the Prismatic Arts Festival since 2010, so the merge was a no brainer. "They have high standards of excellence and we've worked well in the past," says Grant. Artistic producer of Prismatic Arts Society Shahin Sayadi agrees. "Now that Prismatic (along with Onelight) is resident at Alderney Landing, we've been taking up opportunities to bring high quality artistic programing to the Alderney Theatre. Shauntay and I saw this as a great opportunity to bring talented nationally recognized and local spoken word artists to a wider audience," says Sayadi. "I expect that the relationship between Prismatic and CommUNITY will be a model for future collaborations."
Perhaps more than anything else, CommUNITY's popularity necessitated a move as well. Past venues The Company House and Sonic Temple worked for the group, but packed audiences demanded more shows and eventually more room to grow. "Our last season was great, the venues in the past were wonderful but we found our first show would get so packed we'd have to turn people away. We ended up doing two shows back to back," says Grant. With support from Prismatic, CommUNITY is aiming to run increased programming throughout the year. "We've been looking at programming outside of the season—we have the May-September lull," says Grant. "We're definitely going to talk to Prismatic about working with them on a series of shows."
And the new programming won't edge out old favourites like the annual slam challenge. Spoken word artists fight to the finish for a good cause and you reap the benefits of amazing spoken word poetry. "Each poet will just tasked with writing something inspired by the charity of of their choice," says Grant. "It's a good way to find out what charities are close to their hearts, we want to give them something that will inspire them too."