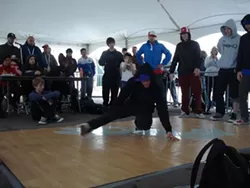 Drew Moore
It's not easy to dance this well.
Concrete Roots brings together the youth of Atlantic Canada through positive hip hop promotion and urban dance. More specifically, bboying and bgirling---AKA breakdancing.
Drew Moore, Concrete Roots director, says the company is all about giving youths an opportunity to do something positive while promoting the local breakdance community.
"I like seeing the youth develop confidence," explains Moore. "You really see people find themselves through this dance."
Mark the following Concrete Roots events on your calendar:
An epic street dance battle happens Friday, April 15 at DANSpace (1531 Grafton) at 8pm. Advance tickets are $5 and it's $10 at the door. Moore expects around 60 dancers to show up flashing all kinds of styles, including breakdancing, hip-hop, popping and krumping. The night will be hosted by Ivan, a pro bboy who's in town for the Michael Jackson tribute show, King Michael. Ivan will pick the night's five best to bust moves with him in Saturday's King Michael performance.
Check out Ivan's sweet moves in the video above.
Last One Standing 5 is set for May 20, and will feature one-on-one breakdance and beatboxing battles. Winners will hop a plane to the Netherlands to perform in the International Breakdance Event, a prestigious breakdance competition featuring some of the world's greatest. There's no venue yet, but tickets will be $10 in advance and $15 at the door.
Floor Wars 9 is a youth crew battle happening June 11. This event is a promotion for Concrete Roots' Class is In, which is an after-school program that gives students from elementary through high school a chance to show off their skills. This clash will feature 16 crews of four-to-six members hailing from all over Atlantic Canada. No venue yet, but admission will be free.
All events are all-ages.