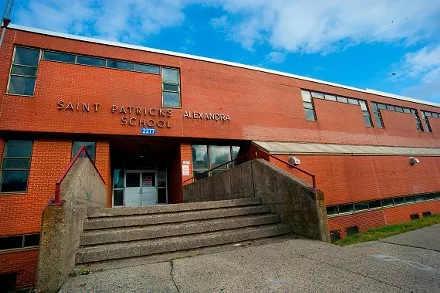 The former St. Pat's-Alexandra School is deteriorating and needs major upgrades, a report HRM released earlier this month states. But after touring the school last Friday, community members who plan to submit a proposal for the property are questioning the report's validity.
The report, authored by Eagle Project Management, says it would cost $15 million to bring the older building up to code. The roofs and outside walls of both buildings are leaking. Photos show mould and potential asbestos. Boilers in the new building have passed their life expectancy.
Graffiti coats the the newer building, a musty smell lingers inside and ceiling tiles and a light fixture had fallen down, The Coast observed in April. The older building shouldn't be used, the report says.
But after the tour, Reverend Rhonda Britton of the Richard Preston Centre for Excellence wasn't convinced the problems were urgent. "It made it sound like all these upgrades needed to be done before you could even occupy the space. The space is very occupy-able right now."
City officials handed out gloves and masks on the tour, she said. "Our children were just in there two years ago," Britton says. A daycare moved out of the older building last year.
The school board voted to close the school in 2009 and HRM took possession in 2011. In April, HRM rented the newer building to the Trailer Park Boys for six weeks.
Peter Smith of Eagle Project Management authored the report, says HRM spokesperson Janet Bryson. HRM paid EPM $11,891 for the report. Smith does contract work for WM Fares Group, a local development firm, but is not an employee of the group, according to Bryson Smith declined to comment for this story.
"It's potentially a conflict of interest, unless you bar that developer now from potentially putting in any bid for the school," says Britton.
The walk-through jogged her excitement about the community's proposal despite her concerns. The groups have 90 days to respond to the RFP, due Nov. 12.