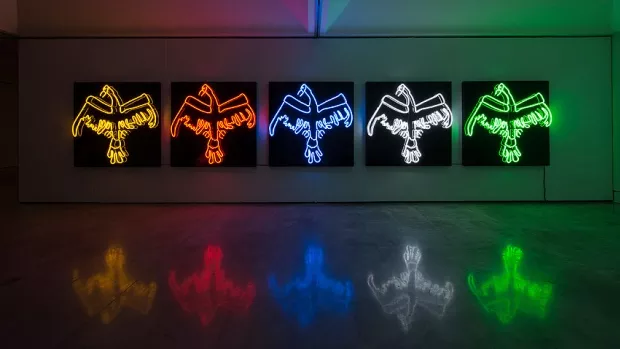 Steve Farmer
Duane Linklater's "Tautology"
North Bay, Ontario artist Duane Linklater takes home the prestigious Sobey Art Award in the prize's 11th year. The $50,000 prize was awarded to Linklater after a jury deliberated over the work of 5 emerging contemporary artists under the age of 40—including Atlantic nominee Tamara Henderson, Quebec's Pascal Grandmaison, Alberta's Mark Clintberg and BC's Isabelle Pauwels—at the Sobey Art Award home base at the Art Gallery of Nova Scotia.
At tonight's gala at the AGNS (a very lovely party with white chocolate covered popcorn which was so good it nearly caused me to faint), the jury of curators stated of Linklater: "His practice simultaneously engages with wild, rural, urban, and digital realms, offering refreshing positions on contemporary life." On display until January 5 at the Art Gallery of Nova Scotia, Linklater and the Sobey nominees will charm and impress you with their creativity, insight and power. Don't miss it.