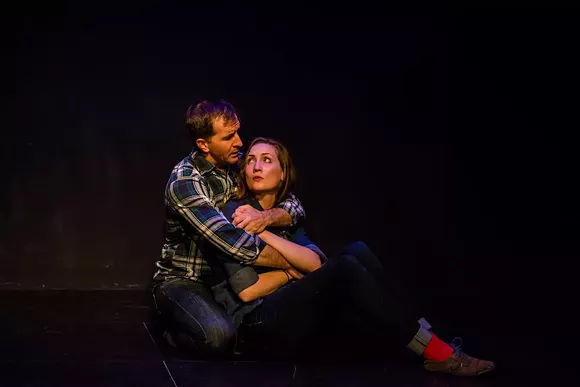 Stoo Metz
Jeff Schwager & Lesley Smith
Marianne and Roland meet cute at a party. She is a physicist, he is a beekeeper. They talk about love, death, string theory, and bees, almost exclusively. The romantic story is a simple one, often told, but the structure of Constellations feels fresh. Scenes are repeated to hilarious or heartbreaking effect as different choices are made and their various outcomes are lived. Jeff Schwager and Lesley Smith carry the show with deeply nuanced performances on a bare stage lit by a honeycomb of lights, in elegant minimalism by designer Vicky Williams. The live cello accompaniment by India Gailey, composed with Michael Robson, is a classy touch, and Constellations avoids melodrama at all costs with its quick pace and meticulous direction by Laura Vingoe-Cram. Only sometimes does this world feel rushed, like there is too little time to sit with one choice before another is made. But isn't that just life?
Constellations by Nick Payne Directed by Laura Vingoe-Cram Starring Jeff Schwager & Lesley Smith Playing at The Waiting Room, 6040 Almon Street October 19-23. $20.