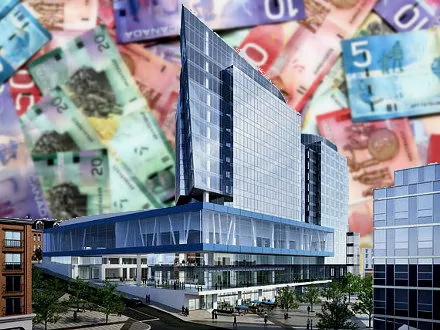 The Coast
The loonie bin.
Update: As noted by reporter Michael Gorman the province will still pay out its third of the Convention Centre price over the next 25 years (like HRM). The full $160-million price is just on the books this year.
More than a quarter of Nova Scotia's capital plan funding for the next fiscal year is earmarked for the Halifax Convention Centre.
Finance minister Randy Delorey announced the details of the $481-million infrastructure plans today in Halifax.
"Whether it's renovations to schools, paving roads or investments in hospitals, these projects will create jobs and opportunities across the province," Delorey writes in a press release. "Communities and businesses will benefit from these projects, at a cost that aligns with the province's fiscal plan."
Other projects include $222.5 million to be spent on highways and bridges, $82 million on schools and $26.5 million for hospitals.
At 27.3 percent of the budget, funding for the new downtown convention centre is the second-largest item out of Nova Scotia's planned capital expenses budget items—next to highways (37 percent) and well above other items including non-convention centre buildings (17.4 percent), capital grants (9.9 percent), IT projects (five percent) and vehicles and equipment (three percent).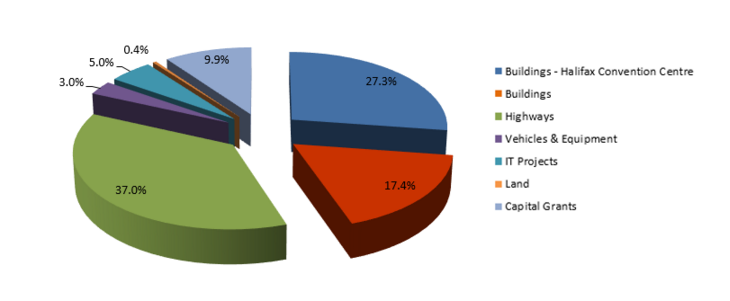 via the Department of Finance
The $164.2-million cost for Joe Ramia's convention complex is being shared by all three levels of government. That was the deal committed to by the previous federal, provincial and municipal governments. Federal funding won't kick in until the project is complete. The municipality and the province is paying out its $56.4 million over 25 years leaving Nova Scotia with this one-time $56.4 million investment.
Both Nova Scotia and the HRM will split the convention centre's operating costs and annual deficits.
Over a quarter of what the province plans to spend has budgeted on major infrastructure projects in 2016/17 is going right into the gargantuan Argyle Street coliseum, but even without that sum the capital plan budget is up several million dollars from last year's.
The Halifax Convention Centre is scheduled to be fully open in January of next year, at which point hopefully our world-class attractions will hide our third-world hospitals.