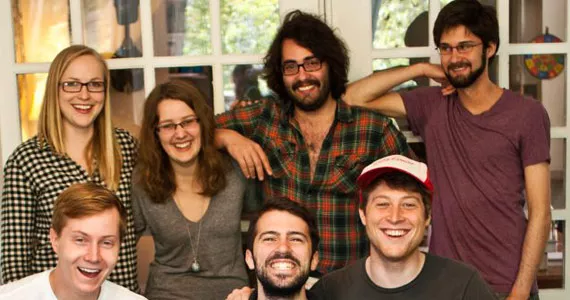 Ask a local band how they got their start, and many will tell you it happened at a party. A conversation about shared interests turns into a date for a jam, and in just a short while, a band is born. The Halifax Music Co-op started just this way, but with a significant twist. When John Bogardus approached Faye Bontje at a King's Chapel Choir party, he didn't just want to start a band with her, he wanted to start an orchestra. While her initial response was "Hell no!" Bontje agreed to help out with organizing the auditions. Two years later, her one-time commitment is her full-time job, and she wouldn't have it any other way. "If it hadn't turned into a social program, a humanitarian program, I seriously doubt that I'd be sitting here, quite confidently saying this is my life."
It's not difficult to see how this student orchestra grew into such an expansive and ambitious program, but it was not something Bontje or Bogardus anticipated. "We both came from musical traditions in other cities, so we didn't know what it would be like here. We had no idea what to expect," recalls Bontje. If the initial turn out of 35 prospective players was a surprise, the rapid growth of the King's College Orchestra into the Halifax Music Co-op is something beyond a wildest dream. The group quickly outgrew their rehearsal space in the King's dining hall, as well as the name itself. "We have doubled in size every four months since we started. We've been saying since we started that we're here to serve Halifax, and King's just happens to be our home, so we're just expanding to become more broad," says Bontje.
Tri-annual auditions have resulted in a group that numbers above 150, and in a growing sense of community and purpose--- for its organizers and its members. HMC now boasts not one, but two orchestras, wind and jazz ensembles and offers subsidized classical music lessons for its members. Violinist Charlotte McClure is one of the newer additions, and she reiterates the huge departure, in organization and attitude, from the traditional orchestra. "The HMC allows us to connect with other musicians in a relaxed and positive space that builds confidence, musical skill, friendships and just a general sense of community. Everyone's looking out for each other---it really is like one big family."
This marks the second year that HMC presents Inventions, yet another extension of its mandate to make classical music as accessible as possible to the greater Halifax community, and perhaps one of its most ambitious. Partnering with local folk and rock musicians Owen Steel, Breagh Mackinnon, Poplar Pines and Panos, Inventions 2012 will attempt to "smash our preconceptions of 'classical' music into little tiny bits," they say.
Arrangers Thomas Hoy and Michael Robson collaborated with participating artists to score 12 songs for a full orchestra, a challenge both sides took to with great enthusiasm. "This is a remarkable opportunity that frankly we don't think we'll ever get a chance to do again," says Poplar Pines' Scott Biggar. "This collaboration is an incredibly unique way for us to communicate our songs."
Bontje insists there is no difference between classical and contemporary music, but that "it's all just a spectrum and we're all playing the notes on a scale. Everyone loves classical music. If you like movies, if you like video games, you like classical music."
When Inventions 2012 debuts on October 15 at The Church of the Apostles, she is so confident that this theory will be proven that Bonjte makes a promise to her potential audience: "I guarantee it won't be what you expect, and I guarantee it will be unbelievable."