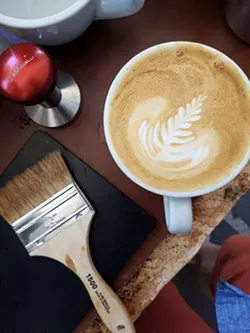 Alex Lee loves a good cortado. To make it right, the seemingly simple drink— two ounces of espresso and two ounces of milk— requires precision pouring. "If you mess up on any variables the drink turns really bad really fast—every single aspect has to be perfect," he says.
That attention-to-detail is something Lee and his business partner Joe Dunford hope to capture and showcase their coming soon cafe, Cortado Tasting Room (50 Gary Martin Drive, across from the BMO Centre)—an idea dreamt up after the pair met and were wooed by java while working at Starbucks.
"I learned more about coffee and realized what I was taught was not the best thing," says Lee, who's since been researching the ins and outs of the drink—from beans to barista.
And he hopes that will shine in Cortado's tasting room, single serve bar and expertly trained staff. Slated to open in early September, the cafe will use Java Blend beans (as well as the wisdom Java Blend's owner Jim Dikaios has imparted on Lee and Dunford) and a variety of brewing methods, from Aeropress to French press to siphon.
"We don't want to be just another cafe," says Lee, "we want to really say something."