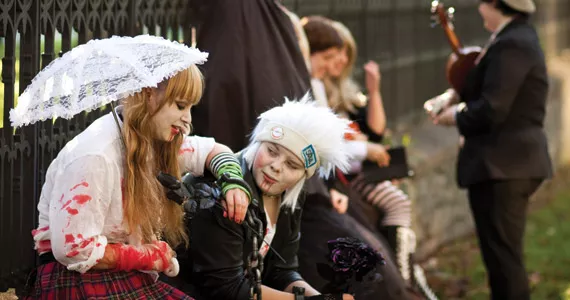 Cosplayers meet at the Old Burying Ground.
The manga selection---Japanese comics---offered by Halifax libraries may not measure up to that found on Tokyo's legendary anime enthusiast paradise, Otome Road, and costumeplay---or cosplay---photoshoots at the Old Burying Ground don't necessarily compare to the cosplay mecca of Tokyo's Harajuku. But cosplayers in Halifax are proving just as dedicated and resourceful as their Japanese counterparts.
Halifax's pre-eminent cosplay group, Anime At Large, was founded by Marsha Reid and is 500-plus members strong. The group was born, inauspiciously enough, out of a Facebook event for an anime marathon at Reid's apartment in 2006. A cosplay picnic and a few sparsely attended anime viewings at The Last Game Store followed. The group persevered and now Reid, with the aid of Trevor Batson, puts on no fewer than three events a month, including a photo shoot on the last Saturday of each month.
"I hated living in Halifax and me and my roommate went to Vancouver; we were really into anime and Japanese culture and we found so much of it there," explains Reid. "It was overload and when I got back, I realized all that cool stuff was here, I just hadn't tried to find it yet. The only thing that didn't exist was that there were no groups of people doing the anime and cosplay thing."
The only groups that Reid could find were ones that didn't fit her demographic.
"They were 35-plus-year-old guys in a room with a TV," she says, "and when I was 20, that was not appealing."
Reid's youngish group serves as a rallying point for cosplayers looking for like-minded and supportive fans.
"It's a place for people to come, dress up and be weird and no one is going to make fun of you," she says. "Everybody will come over to you [when you're dressed up] and give you a hug for no reason."
The connections gained from such an outpouring of support is one of the biggest things that cosplayer Ashley Baker of Musquodobit has taken away from these events.
"I took one of my friends to her first Anime At Large events and it completely changed her world," says Baker. "Before she was withdrawn into herself, she didn't clue in that there really were a lot of people out there who do this. So now it's made her more accepting of herself to realize that this is normal.
"I've actually found that doing the costumes and putting myself out in public like I do has given me more confidence in every day life," she continues. "It's made me a lot more outgoing because you have all these people around you accepting you."
In high school, Baker would put on mini- anime conventions with her friends for extra credit. "All of our teachers signed off to give us two days off classes, we'd set up our own little panels in the library, dress up and show people artwork, books and movies to people who had free block," she says. "It's kind of neat looking back on it, but at the time, I felt like a huge nerd."
Baker's resourcefulness and dedication is obvious. Her current costume is Vivaldi, the Queen of Hearts from Alice in the Country of Hearts and it's an outfit that Baker has dedicated over 100 hours to. "The only thing in my cosplay closet that I haven't made myself are a few wigs, shoes and some jewellery pieces---things I couldn't make myself."
Baker is now branching out into wig-making, as well as armour-making, limiting her reliance on pre-manufactured costume pieces.
"It's disappointing to think that homemade cosplay is starting to turn into a lost art of sorts," says Baker. "I understand that people feel that they are too busy, or that DIY is too expensive, but I think it's much more rewarding to make the costume yourself and turn out a great costume that wows everyone."
Reid echoes that payoff. "Oh my god!" she says. "You're the coolest character in the world. I'm going to hug you, I don't care who you are or what you've done with the rest of your life, but right now I'm going to hug you because you're awesome!"