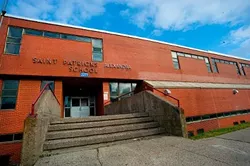 St. Pat's-Alexandra school
We're back to the beginning for figuring out what to do with St. Pat's-Alexandra School.
A policy for disposing of surplus schools was developed by staff, and adopted by council way back in 2000. In theory, the policy called for a three step process: First, city departments would determine if they could make use of the school. If not, the second step was that community organizations would be offered the opportunity to make suggestions for using the school, and city council would judge those suggestions on their merits. Only if council rejected the community groups' proposals would the third step of the policy come into play: the school site would be put up for sale for private development.
In practice, however, the policy was completely ignored. Some schools were simply sold with no consideration of community groups. Others were handed to non-profit organizations, especially if the local councillor had the political muscle to make that happen. But never was mention made of the policy.
City staff and councillors started dealing with the former St. Pat's-Alexandra site in December, 2011, and over the next year bungled and embarrassed themselves at every turn. First, council approved a request for proposal with a tight time-line, then judged community groups and private developers with the same scorecard. That led to a sale to Jono Developments for $3 million.
Next, three community groups—the North End Community Health Clinic, the Mic Mac Friendship Centre and the Richard Preston Centre for Excellence---objected, and in January, 2012, council reversed the sale to Jono, then overturned the 2000 policy, and with that out of the way, adopted a new policy that allowed them to sell the school without first offering it to non-profits, and then they re-sold the school to Jono.
The community groups then sued the city, and in February judge Patrick Duncan put a temporary stay on the sale to Jono until the court could consider the matter in detail. In June, judge David MacAdam presided over a two-day hearing, and in September issued his ruling, which basically laughed the city out of court. MacAdam ruled that not only did the city improperly violate its own policy, but that the sale to Jono violated the city charter in that it was made at a below-market price.
Tuesday, council went into secret session for about two hours, after which councillors took action in public. First, they voided the sale to Jono, and agreed to return Jono's deposit money. Second, they adopted a new policy for disposal of surplus schools, which looks a lot like the old 2000 policy but applies only to the St. Pat's site. Third, they agreed to work on developing a for-real policy that will apply to all surplus school sites. And fourth, they said that the new St. Pat's-only policy won't come into effect until after the community groups are consulted.
What this means is that in about a month there will be a public meeting announcing what everyone already knows, that community groups might make use of the school site. Then, the groups have 90 days from that point to put forward a former proposal. After that, council can either accept that proposal or reject it and sell it to a private developer.