Following up on
my report from yesterday
, Halifax council today briefly discussed the reduction of ferry service scheduled to begin May 21.
The cuts were actually presented to council in one of the voluminous reports that were given to councillors as part of the budget debate earlier this month. Councillor Gloria McCluskey said she didn't recall the cuts being spoken aloud, a sentiment shared by several other councillors and some reporters, but councillor Jim Smith said he recalled hearing it. I wasn't at that debate, so can't say. Certainly when I published yesterday's blog post, the cuts were news to just about everyone.
Last year, council set ridership standard for the ferries: 390 passengers per hour during peak travel times, and 290 passengers per hour during non-peak times. For non-peak times, where the cuts are being made, that equates to four trips per hour, or a ridership standard of 73 people per one-way trip.
Today, Metro Transit provided more exact numbers for ferry ridership, or at least some charts that provide an approximation, as follows, with the cuts in red: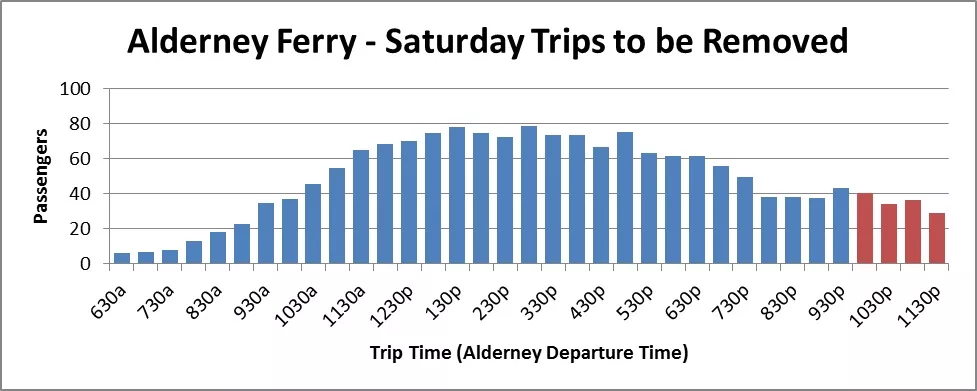 McCluskey said she did not object to the morning or mid-day cuts, but only to the late night cuts.
For myself, this is a difficult issue. (Disclosure: I live a 10-minute walk from the Alderney ferry terminal, and use it, although probably not as much as I should.) I'm a fan of service standards, and haven't objected to similar cuts in bus service, for instance to the #3 or the Sambro route. There's no sense in having a transit system that is less efficient than it has to be.
But there are some other considerations. One, Metro Transit hasn't been particularly great about marketing poorly performing routes, or making small changes to them that might increase ridership. Second, and more important, there are big changes in the works for downtown Halifax and Dartmouth, and a late night ferry service seems essential to the overall picture.
Consider that the King's Wharf project in downtown Dartmouth is nearing completion of its first stage, which is two large residential towers that could provide hundreds of new ferry customers this summer. After those open, two more residential towers will begin to go up, and eventually a large signature building on the waterfront. All told, thousands of new residents could live within blocks of the ferry terminal. (The developers say they'll have a water taxi service for the project, but that seems geared towards high end business users; most people will still use the city's ferry.)
More long-term, the city has adopted several different initiatives to fast-track and encourage development in both downtown Halifax and downtown Dartmouth. Already downtown Dartmouth seems on the verge of a renaissance, and late night ferry service could turn it into a destination for peninsula residents. Taking that service away right now seems to pull the rug out from much of that.
And a downside to strictly adhering to service standards---as opposed to using them to signal the need for better or increased promotion of routes---is that once you cut a route, it's not clear how you get it back.
In any event, council sent the whole issue to its transportation standing committee; presumably, a few weeks from now the issue will come back to council with some proposed reduced service scenarios with budget numbers attached.