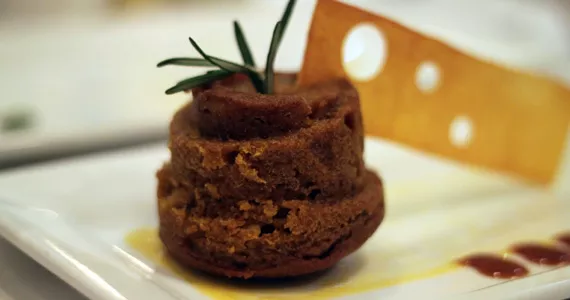 My mother studied baking and pastry art at NSCC's Akerley campus. In the late 1980s all of us kids let go of her apron strings, so she took those strings in her own hands, tied them a little tighter and set off to master croissants and cakes, tortes and tuiles.
While she was attending NSCC, she became aware of dinners put on as a part of a learning restaurant at the school. So she gathered us all in our finest cotton-poly blends and brought us into what was my first foray into a white-napkin environment. I don't remember much about it, just that the food was pretty damn good and it was a real bargain.
The kitchen at Fresh Twenty One, the school's recently rebranded learning restaurant, offers a $35 menu for dinner, and an a la carte lunch during the fall and winter semesters. First-year students serve lunch, while second-year students serve dinner.
"We are working from six chef inspirations this semester that we will run through twice," says Bradley MacDonald, a faculty member in NSCC's tourism management program. "Our six inspired chefs are Gordon Ramsay, Charlie Trotter, Mario Batali, Susur Lee, Thomas Keller and Alice Waters."
The students bring their own ideas to the plate. "The students research said chef and their style of food, interpret the food items, work on presentation style and execute the food during service," MacDonald says.
Student chefs Robyn DeBay, Alison Fenton and Robyn McGregor chose to work on a menu inspired by the Italian tastes of chef and restaurateur Batali. They start the meal with a little Paris toast topped with a dollop of silky chicken liver pate.
Black pepper tagliatelle is nicely seasoned, if a bit doughy. Salty, wispy parsnip chips add a light, lovely crispness. Barbecued quail is plump and juicy, slightly gamey with a charred crispness to the skin. Sheets of beet add a sweet kiss of acidity to a bed of faro. Porcini and black truffle mustard has a slightly muddy flavour that belies the ingredients.
Cured duck breast with firm, oil-marinated white beans suffers from deconstructed plating. With onion jam, apple marmellata, the beans and cured duck on the plate, a composed bite would sing with sweet, earthy and salty notes. The scattered plate wastes that potential, the bland beans overwhelming the other flavours.
An instructor oversees the delivery of the main courses, walking our server through descriptions, a stark reminder that we're in school. It's an awkward exchange, the academic pressure seeming to lead to the first bit of bumbling in our service.
The halibut, poached in lemon and olive oil, is flaky and moist with a golden crust. The risotto is slightly overcooked, but the saffron citronette it sits on is a bright distraction. Pork is fork-tender with a keen, peppery crust. A subtly sweet and earthy sauce chasseur compliments the soft, buttery meat. Stodgy and crumbly, the gnocchi's dough is not quite cohesive enough.
We finish with a pumpkin-rosemary cake that is too spongy for my tastes, a combination of raisins and moist pine nuts giving a chewy, mealy texture. Lush olive oil ice cream, on the other hand, is perfection. None of the dishes are perfect, but there is enough thoughtfulness and technique to give me faith in the futures of these chefs.
"These are exciting times here at the college for students and faculty," says MacDonald. "Many progressive changes have taken place and are in the works to make what we do here current." But even with all the changes, after 25 years two things hold true: the food is pretty damn good and it's a real bargain.