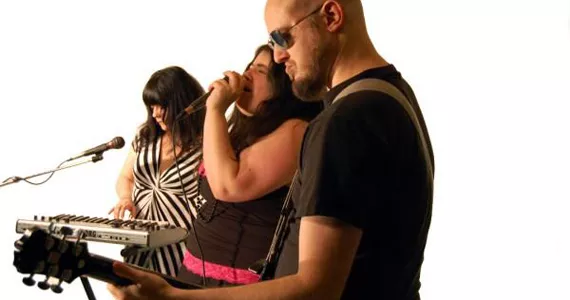 Raising money for charities through rock 'n' roll is as ingrained in rock history as Jimmy Page's dragon pants. But when it came to Halifax, Lindsay Allain thought there was room for improvement.
"The only fundraisers that I had been to that were really rock-oriented were like, 'My cat needs surgery' or something like that," jokes Allain. "Those are great causes, but it kind of felt like an untapped market with hipsters in the city."
So began Crafts for Kids, a fundraiser which started nearly seven years ago when Allain's younger sister was admitted to the IWK. The project was initially held to supplement her parents' costs of travel into Halifax to visit the hospital, but the project soon grew to become an annual fundraiser that aimed to supply crafts to the IWK every December.
In the past five years, the event has spanned multiple days in the winter, all scheduled around Allain's sister's birthday on December 7. But with an impending relocation to Montreal looming, Allain decided to have one last party in the city. She joined forces with Rich Aucoin, whose annual GUSFEST became a one-off summer event to raise money for the cause.
Aucoin is no stranger to charity, even going so far as to run a half-marathon between concerts two years ago for the Heart and Stroke Foundation, as well as biking across Canada to raise money for cancer research.
"I've always tried when I've had control over my shows to have a charity element," says Aucoin. "I always liked the idea of going to a show and having a fun time, but knowing you're doing something for charity as well."
Along with Aucoin's brand of optimistic confetti-pop come performances by No Flyers Please and Allain's own ECT.
Although she will no longer be based out of Halifax, Allain plans to continue her support of the children's hospital.
"There is such a big Halifax community in Montreal, I think I could still raise money for the IWK," she says.
For this year's fundraiser Allain hopes to raise around $2,500 to buy a variety of supplies including the usual crafts of pipecleaners and paper, as well as guitar strings and CDs for older youth.
"At the hospital you could be one day old or you could be 19, so there is a variety of things they need," she says, adding that non-cash related donations are also accepted at the fundraiser.
"I don't know about other people, but I buy too many office supplies over time. So if you're one of those people, you can bring pens and memo pads over, because teenagers love to keep diaries," says Allain.
"There are so many things that you wouldn't think about that they would need."
Even though this is the last Crafts for Kids fundraiser for the foreseeable future, Allain knows the rehabilitating affect music and art has on the sick and urges people to donate to the IWK throughout the year.
"Making kids comfortable and having a great time through music, arts and crafts, the IWK gives it to you and I think that's really nice," she says. "It really helps the kids get better."