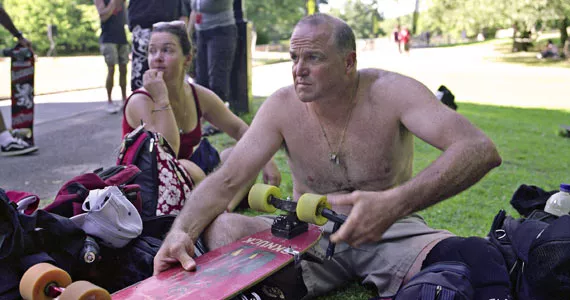 Growing up skateboarding in Moncton, NB, Craig Jackson had never seen a longboard before. But when his high school friend Jaret Belliveau ventured out west after high school and returned to town with a new longboard, Jackson was hooked.
Moving out to Halifax for school shortly afterwards---with Belliveau studying photography at NSCAD and Jackson studying Business at SMU---the two began to spend their time racing through the streets of Halifax high on adrenaline.
"We'd bomb down Citadel Hill late at night," recalls Jackson about his early longboarding exploits. "We'd have to time the stop light at the bottom, because neither of us knew how to really stop."
As the two jumped into the world of hardcore downhill skating, Jackson took off to the west coast in search of better terrain and established racers. What he found was a subculture untapped by the mainstream skateboard market. "I found out there was this whole scene out there I had no idea about," says Jackson.
After an accident cut his time short on the racing circuit, Belliveau had the idea of creating a documentary around his efforts to return to the world of downhill skateboarding.
That's when they met Claude Regnier, an ex-slalom skateboarder who---at the age of 50---was facing some financial troubles.
"Claude was living in subsidized housing and had maxed out credit cards, at that point he already had three or four skate parks that had all gone bankrupt. This was a man who was completely dedicated to skateboarding at all costs," says Jackson. "Once we saw that, we realized there were more people out there with a story to tell."
That story is Highway Gospel, a four-years-in-the-making documentary using downhill skateboarding as a vehicle to explore three characters who refuse to give up on their dreams. The film focuses on Regnier along with Bricin Lyons, a longboarder who organized the first legal downhill race in Canada (competitive speed-racing is an outlaw sport usually practised on streets and highways at night) and Jody Willcock, an off the grid skater who uses junk electronics and stolen metal to carve high-tech longboards that rival commercial boards.
Even though the film portrays illegal skateboarding and plays with the image of the anti-authoritarian skater, Jackson and Belliveau try to throw away the negative stereotypes associated with skateboarding and uncover the communal aspect of the lifestyle, which is something even their parents understand.
"It's something my folks can watch and really take from it, just the passion of these people," says Jackson.
Although the film centres around three skateboarders living the dream, Jackson is quick to point out that Highway Gospel is more than just another skate doc.
"When we talk to people they're like, 'Oh, yeah. You're the guys who did the skateboarding documentary'," he says, a little frustrated. "We did a character driven documentary about people, about passion, about love, about failure. Just things that whether you skateboard or not an audience can relate to."