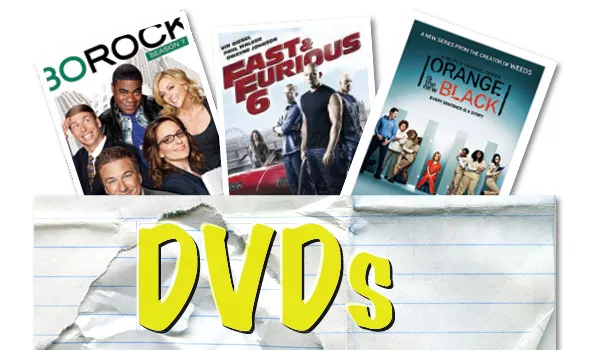 Jacob Boon's Top 10 Films You Should See Anyway
They're not all winners, but here are some picks from the man who has seen almost everything this year. They aren't bad, they're good-bad.
Spring Breakers Directed by Harmony Korine (VVS) Harmony Korine's candy-coated sexploitation assault would have been a cultural touchstone even if 2013 wasn't the year Miley Cyrus ejaculated Tumblr into our living rooms. As it stands, Spring Breakers is a Bacchanalian Jägerbomb, wielding bored Disney starlets and James Franco's inherent idiocy to castrate society's molly-popping ugliness with neon, homicidal glee.
The To Do List Directed by Maggie Carey (Allliance) Gross-out teen comedies aren't known for progressive takes on fucking, leaving The To Do List's vacancy of slut-shaming all the more refreshing. Writer and virgin director Maggie Carey is full of subversive gags, while fearless star Aubrey Plaza dominates an ambitious role. A retro genre spoof with a caring acceptance of the intense physical joke that is lovemaking.
Stoker Directed by Park Chan-wook (Fox Searchlight) A creepy love letter to Hitchcock, the gothic Stoker refuses to make sense even while its digging into your skin. Detached teen India might be dreaming when a stoically creepy uncle (a porcelain Matthew Goode) who no one's ever mentioned moves in after her father's horrific death. A spellbinding, sinister thriller follows from Oldboy director Park Chan-wook.
The Counselor Directed by Ridley Scott (20th Century Fox) Mostly just a doomed lawyer being told again and again to accept his fate. Cormac McCarthy's The Counselor is an apocalyptic parable cranked up to 11. Yes, Cameron Diaz' omnisexual predator fucks a car, but surmounting that cyclone are hellish landscapes, garish wealth and disjointed philosophizing about entropy that float away on the desert breeze.
G.I. Joe: Retaliation Directed by Jon M. Chu (Paramount) Like every film franchise, G.I. Joe just needed Dwayne Johnson to elevate its hyperbolic hokum. Unlike its overreaching progenitor, this bicep-bulging sequel embraces its action figure roots. Ninjas battle upside down over mountain chasms, ridiculous Cobra vehicles attack freedom itself and Ray Stevenson handgun-fistfights The Rock. Imbecilic, but fully committed to that strapping stupidity.
Fast & Furious 6 Directed by Justin Lin (Universal)
The Host Directed by Andrew Niccol (eOne)
The Canyons Directed by Paul Schrader (IFC)
Riddick Directed by David Twohy (Universal)
Escape Plan Directed by Mikael Håfström (eOne)
Jacob Boon has been writing for The Coast since September 2011. He hopes this won't be his last Christmas in Halifax.
---
CARSTEN KNOX
Carsten has been writing for The Coast since 2003. He once worked on an action movie called Highwaymen, starring Colm Feore, where they totalled seven 1968 Plymouth Barracudas.
The Sweeney Directed by Nick Love (eOne)
My DVD/Blu-Ray film choices didn't open in cinemas here due to the vagaries of distribution, but should be caught up with at home. This one is tailor-made for a rainy Sunday afternoon on the couch---a throwback to 1970s police dramas, boasting a gritty performance from Ray Winstone and a stellar, Michael Mann-worthy shootout in London's Trafalgar Square.
Byzantium Directed by Neil Jordan (Mongrel)
Neil Jordan's vampire movie for adults---when was the last one of those we saw? Gemma Arterton and Saoirse Ronan prey on folks in a dismal British beach town while we flash back to the patriarchal past they fought their way out of. Complete with rivers of blood.
Love Is All You Need Directed by Susanne Bier (Sony)
Romantic comedy? The genre is all but dead, except in Europe where directors like Susanne Bier are still cooking 'em up with a splash of drama. Here crusty Pierce Brosnan catches the eye of recently separated cancer survivor Trine Dyrholm at their children's wedding in Italy. Love, actually, ensues.
Black Mirror: Complete Series 1 By Charlie Brooker
Hard to find here in Canada but utterly worth the effort, Black Mirror is Charlie Brooker's mind-scrambling tech horror anthology series. The best kind of topical sci-fi, each episode speaks to our addiction to screens, software and digital distraction. Have you considered what comes after Google Glass, and how it'll fuck up our world? Brooker has.
V/H/S 2 Various directors
Worth seeing for Jason Eisener's herky-jerky "Slumber Party Alien Abduction," this horror sequel hits solidly with a number of its collected creepy shorts. Most terrifying might be "Safe Haven" by Timo Tjahjanto and Gareth Huw Evans, a blood-soaked tale of a documentary crew and an Indonesian devil cult.
The Medusa Touch Directed by Jack Gold (Hen's Tooth)
Upstream Color Directed by Shane Carruth (ERBP)
Drinking Buddies Directed by Joe Swanberg (Magnolia)
Only God Forgives Directed by Nicolas Winding Refn (Radius-TWC)
The Hunt Directed by Thomas Vinterberg (Magnolia)
---
SHANNON FAY
Shannon Fay has been writing for The Coast since 2009. For Christmas she wants a bento box and plans to make 2014 the year of fancy lunches. She blogs at ayearonsaturn.com
Blackfish Directed by Gabriela Cowperthwaite (Magnolia)
As far as cetacean misery porn goes, Blackfish isn't as visceral as The Cove, but it's still a heartrending documentary. The film uses the death of a sea world trainer to expose the world of marine theme parks, but its real subject is how humans mistreat other creatures on this planet.
The World's End Directed by Edgar Wright (Universal)
The capper in Simon Pegg, Nick Frost, and Edgar Wright's unofficial "blood and ice cream" trilogy, The World's End is grimmer than the trio's previous movies (Shaun of the Dead and Hot Fuzz), and also less satisfying. However, Wright's visual flair and Pegg and Frost's chemistry make this movie well worthwhile.
Fast & Furious 6 Directed by Justin Lin (Universal)
These films are basically the modern equivalent of old-timey movie serials: episodic, action-packed, and with clear good and bad guys. Fast & Furious 6 does an amazing job of using its dumb qualities to dial up the fun, never letting things like physics get in the way of a good action set piece. SF
30 Rock: Season 7 Created by Tina Fey (Universal)
It would've been easy for 30 Rock to coast along on goodwill in its final season. And sure, part of the show's charm is watching the various characters finally get their happy endings (even Lutz gets his due), but it's also the funniest season since the show's early days.
Orange Is the New Black: Season 1 Created by Jenji Kohan (Netflix)
Orange Is the New Black manages to have compassion for its characters while never getting preachy. It's also super addictive: nearly every episode ends with a twist or cliffhanger that makes you immediately click Play Next Episode.
Hannibal: Season 1 (Alliance)
The Great Gatsby Directed by Baz Luhrmann (Warner)
Upstream Color Directed by Shane Carruth (ERBP)
Much Ado About Nothing Directed by Joss Whedon (Lionsgate)
Orphan Black: Season 1 By Graeme Manson and John Fawcett (Bell Media)
---
Comedic highs of 2013
We asked comedians (and comedy fans) for their most memorable moments for 2013. They delivered.
Brian Posehn at HPX
We were truly blessed with two nights of comedy by the mail-guy from Just Shoot Me. LA's Posehn had us cry-laughing at grumpily delivered and unmodulated jokes about his leaky penis, his own fatness and farting on Christian Slater. Gross/awesome. --Adria Young
Laughterburner coincidences at Bearly's
It was a Wednesday night at the Laughterburner show at Bearly's. I'd told a joke mocking a men's wear store in St. John's called Chafe. After the show a woman introduced herself to me: "I'm Nicki Chafe. My family owns Chafe Men's Wear." I think there might have been 12 people in the crowd. What are the odds? --Ian Black (Catch Ian live Dec 23 at the Carleton with Peter White.)
Gus' Pub rise as a comedy staple
The growth of Gus' as a comedy venue, and the support it's had lately has been incredible. From Megacomedy Mondays, to the comedy and rock shows I've been a part of, people have started to realize that Gus' is the place to go every week for pure, local, alternative comedy. It's been great to help combine the music and comedy scenes for shows like the one I'm hosting on December 27. Not everyone wants the pre-packaged, almost soulless presentation of big chain comedy clubs. --Ryan Fried
CoHo Variety Show
The sketch/variety show every Pride and Christmas at the Company House. Krista Davis, Margot Durling, myself and supporting performers put a ton of heart into these shows which have become a staple within the queer community. Then we pack the house and fill it with laughs. --Megan McDowell
HPX's comedy focus
Comedians who I saw perform for the first time this year at Gus' were suddenly opening for Brian Posehn. So cool. —Cheryl Hann
Laughterburner at Bearly's
I've been hosting Bearlys's pre-karaoke comedy show since March, it's chaos---the audience is there for wings and drinks, not jokes. The best part has to be the cast of characters, my favourites are Young Cowboy and Old Cowboy. Young Cowboy is our only "real" audience member, he comes to see us specifically, sits right up front, laughs and wears a cowboy hat. Old Cowboy is probably 70+. He's a feisty short ex-sailor with enough attitude for the whole bar, he stumbles on stage sometimes and tells a few classic dirty jokes, plays the VLT and wears a cowboy hat. --Bill Wood
That Time of the Month Women's Comedy Special
That Time of the Month where Megan MacKay was a time traveller, Emma Cooper was cowboy and Cheryl Hann walked on the tables as a lounge singer was for sure the best. Then Chris Locke at Gus' Pub. Wait, Everardo Ramirez and myself put that show on but who cares, it was standing room only. --Paul Doucette
Bill Wood's surprise striptease
Bill Wood surprising the audience at The Company House during a That Time of the Month show for Cheryl Hann's birthday. He wore nothing but balloons and did a strip tease to "Popcorn." It was shocking, not only because every time a balloon popped audience members screamed as though they were under fire, but you're never prepared to see a bud wearing nothing but a banana hammock. --Megan MacKay
More cowboy hats
It was a show I headlined at Jacob's Lounge. I had just finished my set when all of the sudden an old drunk man in a cowboy hat (who was not a comic) gets on stage and started doing material... He was funnier than me. --Travis Lindsay