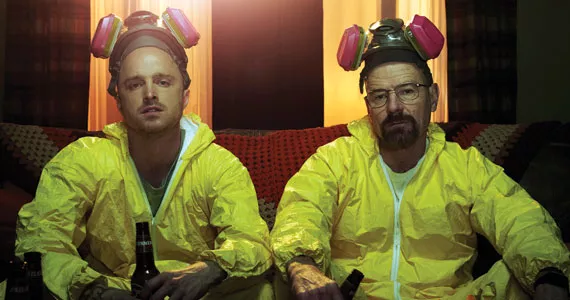 The terrible two of Breaking Bad.
TOP 12 FILMS OF 2012: Jacob Boon
Coast writer since 2011
Jacob Boon will sometimes check his email in the theatre during a bad movie. He is not a very nice person.  
Ruby Sparks (Fox Searchlight) Directed by Jonathan Dayton and Valerie Faris
An introverted novelist's dream girl magically springs to life from the page, allowing the author to terrifyingly start editing their relationship. A long overtired decade of earnest manchild protagonists and the manic pixie dream girls they obsess over is wonderfully dissected in this romance written by and starring Zoe Kazan.
Searching for Sugar Man (Sony)
Directed by Malik Bendjelloul
There are millions of failed musicians who never achieved success, but there's only one who unknowingly became the voice of a generation in South Africa. Don't Google "Rodriguez," lest you spoil this surprising documentary about a singer-songwriter from the 70s whose songs helped a revolution triumph in a country a world away.
Cosmopolis
(eOne)
Directed by David Cronenberg
A tycoon's financial and psychological wealth washes away through a tumultuous limo ride across town that features meditations on fortune and fate. David Cronenberg directs, Robert Pattinson stars and Paul Giamatti steals. It's the film based on Don DeLillo's novel that the critics hated, so you know that it's good.
Premium Rush (Columbia)
Directed by David Koepp
Lunatic crooked cop chases wily bike messenger with a death wish across New York over a mysterious package. The momentum's relentless, the asphalt burns are palpable and Michael Shannon is at his zaniest. Sleeker, less demanding and all around more fun than every other Joseph Gordon-Levitt blockbuster released this year.
Killing Them Softly (Weinstein Company)
Directed by Andrew Dominik
The hardest part of murder is dealing with people. Brad Pitt is a put-upon gangster, cleaning and negotiating through the fallout from a mafia heist in this dark thesis by Andrew Dominik. Featuring ceaseless scenes of violence and the reason why Obama's hope for change is full of shit.  

Seeking a Friend for the End of the World (Focus)
Directed by Lorene Scafaria
 
Hope Springs (Columbia)
Directed by David Frankel
 
The Master (Weinstein Company)
Directed by Paul Thomas Anderson
 
End of Watch (Open Road)
Directed by David Ayer
 
Looper (TriStar/Alliance)
Directed by Rian Johnson
 
Seven Psychopaths (CBS)
Directed by Martin McDonagh
 
The Sessions (Fox Searchlight)
Directed by Ben Lewin

---
Molly Segal
Coast writer since 2011
Molly's favourite movie as a child was Beauty and the Beast. She's written for the Coast since 2011.
Holy Motors (Les Films du Losange)
Directed by Leo Carax
We follow a mysterious man, Monsieur Oscar, throughout the course of his night as he changes costumes and personalities from one vignette to another in Holy Motors. It's funny, it's weird, it's almost too self-indulgent at times, but it's definitely worthwhile viewing provided you're OK with a non-linear, surreal plot.
Barbara (zdf)
Directed by Christian Petzhold
Barbara (Nina Hoss), a doctor working in the countryside of East Germany in the 1980s, is plotting her escape. Petzhold creates a subtly brilliant movie, from the minimal dialogue to the muted colours of the landscape. Politics, society and economics are woven into the fabric of this film.
Amour (Sony)
Directed by Michael Haneke
Haneke's latest tackles the difficult side of love---witnessing the deterioration of a partner. Haneke deals with universals by creating an insular world: we begin and end in an elderly couple's beautiful apartment, now the site of decay. Haneke manages this bleak subject matter beautifully.
Samsara (Oscilloscope Laboratories)
Directed by Ron Fricke
Ron Fricke's Samsara makes most sense to see on a big screen for its full effect. From ancient Tibetan landscape to the abandoned and decrepit Lower Ninth Ward in New Orleans, post-Katrina, to factory farms, Fricke weaves together a diverse cross section of human existence through images and music.
Jiro Dreams of Sushi (Magnolia)
Directed by David Gelb
Jiro Ono turns sushi making into an art. Director David Gelb captures the spirit of this perfectionism in this feature-length documentary (it didn't make it to Halifax until 2012). Love or hate sushi, it's fascinating to watch an 85-year-old chef fuss painstakingly over how to slice tuna, or how to properly prepare an octopus.
 Antirviral 
Directed by Brandon Cronenberg
 
Lincoln (Touchstone/20th Century Fox)
Directed by Steven Spielberg
 
Sound of My Voice (Fox Searchlight)
Directed by Zal Batmanglij
 
In Darkness (Sony)
Directed by Agnieszka Holland
 
Farewell, My Queen 
Directed by Benoît Jacquot
 
We Need to Talk About Kevin (Artificial Eye)
Directed by Lynne Ramsay
 
Take This Waltz (Mongrel)
Directed by Sarah Polley

---
TOP 12 DVDS/BLU-RAY of 2012: Dave Howlett
Coast writer since 2012
Dave Howlett plans to watch the entire Rocky series again in January, like he does every year.   
Jaws (Universal)
Directed by Steven Spielberg
Spielberg's blockbuster fish tale made its high-definition debut this year, and the results are, well, jaw-dropping. In addition to restored picture and sound, the new disc includes a two-hour making-of documentary and a new feature-length retrospective about the film's legacy. —DH
Breaking Bad: The Complete Fourth Season
(Sony)
AMC's best show (sorry,
Walking Dead
) is crime drama at its gripping best, and the extras in the latest DVD release should satisfy even the most craven
BB
junkie. Along with an extended finale, the set includes featurettes, commentaries, deleted scenes, and a commercial reel for Saul Goodman's law firm. Better Call Saul!
Chinatown (Paramount)
Rosemary's Baby (Criterion)
Directed by Roman Polanski
Two of Polanski's finest films received stunning Blu-Ray upgrades this year, both loaded with fascinating supplemental material. Chinatown includes a commentary from screenwriter Robert Towne and avid fan David Fincher, while Criterion's Rosemary's Baby disc features revealing new interviews with the controversial director and the film's star, Mia Farrow.
Game Of Thrones:
The Complete FIRST Season (HBO/Warner)
The DVD of the epic fantasy's debut season made headlines when a featurette revealed George W. Bush's cameo---as a severed head on a pike. Collectable status aside, the box set contains a treasure trove of worthy extras, including a look at how the show's beautifully intricate opening sequence was created.
Little Shop Of Horrors
(Warner)
Directed by Frank Oz
They Live (Scream Factory)
Directed by John Carpenter
New label Scream Factory, specializing in VHS-era horror, launched with special editions of cult favourites like Halloween III, Terror Train and They Live. Loads of extra features, slick retro packaging and an ambitious slate for 2013 should keep fans screaming for more.
Being John Malkovich (USA)
Directed by Spike Jonze
Criterion re-released this classic brain-twister in 2012, with an appropriately weird batch of bonus materials (like commentary by Spike Jonze "competitor" Michel Gondry). Come for the mystifying, mesmerizing movie, stay for the interview where Malkovich reveals that it was his idea to have Charlie Sheen appear as his best friend (they had never met).
Indiana Jones: The Complete Adventures (Paramount)
Directed by Steven Spielberg
 
Louie: Season 2 (20th Century Fox)
Directed by Louis C.K.
 
The Cabin In The Woods (Lionsgate)
Directed by Drew Goddard
 
Justified: Season 2 (Sony)
Developed by Graham Yost
 
---
TOP 12 COMEDY SPECIALS/SHOWS OF 2012: Stephanie Johns
Coast writer since 2005
Stephanie is a pretty easy laugh. To wit: nearly did a spit-take to a corny joke Ice-T made on *Ice Loves Coco* just this week.  
The Eric André Show (Adult Swim)
My crush on Hannibal Buress may be showing, but the real star here is Eric André, who careens (sometimes literally) through surreal sketches, horrible interviews, uncomfortable bits and cameos from folks like Pete Wentz and Dolph Lundgren, producing a thoroughly hilarious TV show.
Flag on the Play Halloween Special LOCAL (youtube.com/flagontheplay911)
Elaborate costumes, plenty of spells, lots of dry ice and a great Hilarious House of Frightenstein cameo from local actor/Saints fan Shawn Duggan elevate the weekly football comedy series to epic heights. The biggest laugh may or may not have come from the insinuation that they are adults.
Hannibal Buress: Animal Furnace (Comedy Central)
In my line of work, you really appreciate a good journalism joke. Buress' calm, self-aware and hilarious recounting of a cringe-worthy student newspaper piece is enough to send anyone, editor or not, into fits of laughter. Recommended for anyone who hates their teen cousin or really loves apple juice.
John Mulaney: New in Town (Comedy Central)
The only thing worth talking about, thinking about or watching is Law and Order: SVU. Jokes about SVU delivered by a sweet- natured SNL staff writer are basically the ultimate and Mulaney delivers. Stories about a high school party and a prostate exam are so perfect it's almost gilding the lily here.
Tig Notaro: Live (Secretly Canadian)
Heart-wrenching, hilarious and unbelievable, Notaro's set detailing her breast cancer diagnosis demonstrates comedy's unique ability to bring a bunch of strangers together. Blending black humour and personal confessions, Notaro draws on the warmth of the room, opening up about painful and delicate matters for 30 awe-inspiring minutes.
Aziz Ansari: Dangerously Delicious
(Comedy Central)
Jim Gaffigan: Mr. Universe
(Comedy Central)
Paul F. Tompkins: Laboring Under Delusions
(Comedy Central)
Maria Bamford: The Special Special Special
(Chill)
Rob Delaney: Live at the Bowery Ballroom
(independent)
Patrice O'Neal: Mr. P
(Universal)
Kyle Kinane: Whiskey Icarus
(Comedy Central)