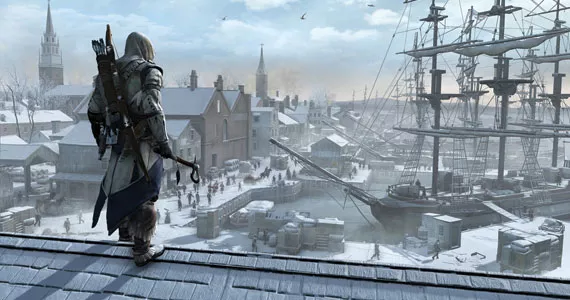 Justin Hartling
Coast writer since 2012
Currently has a Wii, Xbox 360, N64, PS2 and a SNES hooked up to one TV and has yet to burn his apartment building down.
Assassin's Creed 3 (Ubisoft)
ACIII features everything you know and love about the Assassin's series. Great parkour elements, inventive ways to kill and highly addicting multiplayer. The greatest leap forward in ACIII is the world you assassinate in, moving from sprawling cities to the untamed forests of America during the Revolutionary War.
Borderlands 2 (2K Games)
This sequel did not disappoint. Everything that made the first game great is back and better than ever. The game offers a fulfilling experience on its own, but really picks up when you're playing with friends. The satisfaction of a group of friends taking down Handsome Jack---while looting the whole way---is priceless.
Dishonored (Bethesda Softworks)
Dishonored represents the future of gaming. Through a mix of stealth and RPG in a first person perspective, Dishonored combines genres that are completely opposite and made them magic. It excels in giving the freedom to choose how you complete every mission. There's always a reason to go back to my pick for game of the year.
The Walking Dead (Telltale Games)
Fez (Microsoft Studios)
If you love nostalgia and some of the most inventive gameplay ever devised, this is your game. The eight-bit Fez can rotate his 2D world to create complex, yet brilliantly simple puzzles. This is a game that any gamer will love.
Halo 4 (Microsoft Studios)
Developer 343 Industries create an amazing game to start a new trilogy for Master Chief. Core gameplay mechanics stay the same, but smarter enemies and a storyline that actually develops past "go kill that thing because it's bad" makes this game surprisingly memorable. First time Master Chief has ever made me cry.
Journey (Sony)
Max Payne 3 (Rockstar Games)
Sleeping Dogs (Square Enix)
Minecraft - Xbox Live Version (Mojang/Microsoft Studios)
New Super Mario Bros. U (Nintendo)
---
Colin Chisholm
Coast writer since 2011
Colin Chisholm's love of video games began at a young age and if he had one wish this Christmas, it would be that everyone play something new, give the *Angry Birds* a break. 
Journey (Sony)
The downloadable games killed it this year, including this incredibly beautiful cinematic experience. From the studio that brought us Flower, Journey takes the player on, well, a journey. Sweeping vistas and a heart wrenching score (the first video game soundtrack nominated for a Grammy), proves video games are indeed an art form.
The Last Story (Xseed Games)
The Last Story is also the last great Wii game. A Japanese RPG---that almost didn't make it to North America--- takes the genre and turns it on its head in so many fantastic ways. Rather than fighting through the same enemies for hours, The Last Story focuses on delivering a compelling story and a fascinating cast of characters. Dust off your Wii for this one!
Mass Effect 3 (Electronic Arts)
The end of one of the greatest sci-fi (not just games!) trilogies is here. And although it's certainly one of the best games of 2012, it's just shy of its predecessor's greatness---the Return of the Jedi to Mass Effect 2's Empire Strikes Back. The Mass Effect series represents the best original experience of this console generation, best played from the beginning.
Halo 4 (Microsoft)
Dishonored (Bethesda)

The Walking Dead (Telltale Games)
To be frank, this is the best game of 2012. A low-budget, point-and-click, episodic non-multiplayer game tied into a comic/television series. Not typical game of the year material, yet I've never played anything like it. An emotional rollercoaster with a gripping story and characters wonderfully brought to life (and death). An absolute must-buy.
Call of Duty: Black Ops II (Activision)
What is the insufferable CoD doing on this list? Well, it changed things up and got damn good again. The campaign impresses by spanning several different timelines and trying some new gameplay formulas. The ever-popular multiplayer gets a refresh with new modes and weapons. A fun and addictive romp, just remember to play other games too.
Angry Birds: Star Wars (Rovio)
Borderlands 2 (2K Games)
ZombiU (Ubisoft)
Zero Escape: Virtues Last Reward (Aksys Games)