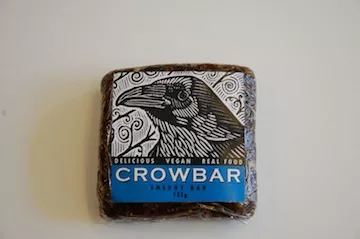 We now have an energy bar to call our own:
The Crowbar
made by hand here in Halifax. "The Crowbar is about twice as large as the average energy bar, and is free of wheat, dairy and refined sugar," explains bar-expert
Breighan Hunsley
. "It's also full of fibre, omega threes, protein, calcium and iron, and it will keep you full for hours. I'm a nutritional consultant and I formulated it to be something I'd be super pumped to buy myself. We use as many local ingredients as we can, the bar is almost 70 percent organic, and our wrapper's made of oxo-biodegradable plastic." You can find the Crowbar (for $4 each) at
The Grainery Food Co-op
(2385 Agricola Street, 446-3301),
Planet Organic
(6487 Quinpool Road, 425-7400), and on Saturdays at the
Halifax Seaport Farmer's Market
(1209 Marginal Road).