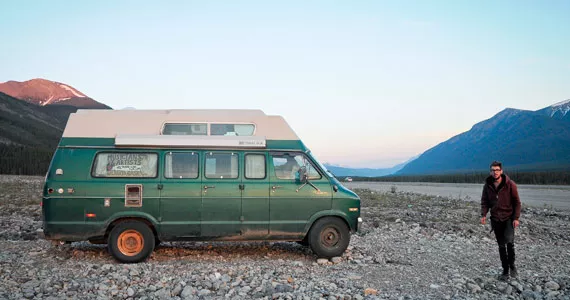 Devon Berquist
"This is the first time I'm leaving Halifax without any real intention of coming back to live," says Eastbound.
"I tend to use a lot of allegorical imagery in my music, particularly about animals and creatures of the forest," says soon-to-be-former Halifax folk singer Cud Eastbound. "Between travelling, my dog, my friends and the occasional heartache here and there, I don't have trouble finding inspiration in the world."
On Friday, Eastbound will release his EP Leaving, starting a 9,000 kilometre tour that will end in Dawson City, Yukon---his final stop for the foreseeable future. Also featuring Willie Stratton & The Boarding Party, The State of Alaska and Ostrea Lake, all proceeds from The Seahorse show will go to ARK Outreach, Halifax's drop-in community centre for street-involved and homeless youth, ages 16 to 24.
"The ARK is a safe place to call home. It fosters creativity and growth," Eastbound explains. "The ARK is more like a family that has helped me and countless others through rough times, wonderful times and everything in between. As a goodbye to this city and all the inspiring people in it, I want to host an evening of music and laughter and give back to all the people who have given so much to me."
His first EP with full-band accompaniment, Leaving will be released on Halifax's folk-punk label All We've Got Records, which is excited to support both Eastbound and the ARK. "That the ARK provides instruments, and even the ability to record in the space, is amazing," says the label's Julian Morrow. "Music is a powerful form of communication with the capacity to break down barriers between people. The ARK fosters an environment of artistic expression, and that makes accessing their services"---from the daily basics to the more socially complex--- "that much easier and approachable to youth."
Eastbound agrees. "It's more than just a drop-in centre. The staff is so positive. One thing I will always remember is being at the ARK for the first time and seeing an entire wall filled with photos of smiling people. It struck me how much the ARK was close to a home for so many people," he says.
A seasoned traveller, Eastbound began writing music as a teen in Chateauguay, Quebec. Almost a decade later, he's released several albums and has toured some of the US and all of Canada coast to coast, with his dog, Frett. The Leaving EP is a notable departure from his earlier, one-man folk style of music.
"Working on a project with so many people has been fun," he says. "There are drums, banjo, fiddle, cello, several vocalists and gang vocals for a few tracks. It's been wonderful to hear my songs come to life with the help of my friends." He wrote the album about Halifax and the prospect of moving.
"This is the first time I'm leaving Halifax without any real intention of coming back to live," he says. "I've met many amazing people and the city will always hold a special place in my heart: sloppy acoustic shows, the endless rain, the ocean, all the friends who have helped me get to where I am today."
To send himself out in style, Eastbound stacked the bill with his favourite Halifax bands, some of whom also contributed to Leaving. But mostly, he hopes to raise as much money as possible for the ARK.
"Although the organization keeps a low-profile, the inside is always a lively and colourful place."
---
ARK Outreach Fundraiser
Friday, June 6 at 9pm, $10-$12
The Seahorse Tavern, 1665 Argyle Street