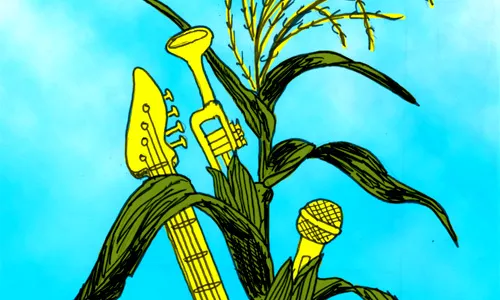 Earth Day is supposed to celebrate the planet and raise awareness of the need to protect it. But doing so requires a greater change in perspective, a mass realization that just because we need the planet doesn't mean it needs us.
That is, a cultural shift. The makers of culture have a key role to play---and sometime within the past 40 years ecology as theme has slipped itself into every major art form. In Halifax, there are many artists and arts organizers working with ecological themes. They know that, like Earth Day, their work won't save the world. But they feel moved by the planet, compelled to celebrate it and call out humans on its destruction.
Jeff Torbert, whose latest album is Urban Poultry & Other Hopes, organizes Muscians for Farmers, an annual local-food concert. He hopes to spend Earth Day at Red Fox Farm in the Valley, learning about their greenhouse, cold storage and heritage plant breeding.
"I love the Earth Day idea if it helps to bring issues to light, but one day of awareness isn't the same as choosing to support local farmers all year long, or lobbying for better energy policy," Torbert says. "Music has the ability to bring people together and can help to change the narrative that our culture tells itself around how to live."
But his own ideas and choices are shaped by "non-musical influences." He believes that, regardless of occupation, anyone can be part of an "emerging social and eco consciousness---musician or banker or plumber or whatever."
Kev Corbett, whose songs muse on the land's sacredness, its place in our DNA, says singing about those things isn't necessarily for the wider world. "I sing about it, and hope that whatever community we create together is listening," he says. "I'm singing for whomever shows up, about the joys I find in things like farmers' markets, locavore living, love and trust and community."
But he sees peril in our collective behaviours. "Every fucking day needs to be Earth Day," he says. "Your kids' kids' kids' kids' world hinges on it."
Corbett, who will spend Earth Day planting the garden, rehearsing and booking gigs, notes great progress in our values and conversations. "Forty years ago you could pour PCBs down a drain, and it wouldn't register," he says. "In the intervening time, 97 percent of the world's scientists have been able to agree on climate change as a fact with a beginning, a middle and many graphic ends."
He feels that people are waking up to the need for change. "Our city is now supporting multiple farmers' markets; people are retrofitting their houses to get off fossil fuels, learning the hard way what it means to buy slave-labour cheap shit from overseas while our factories and stores and farms shut down here. Bicycles and bike lanes are cool...people flip the bird at Hummers."
But Tom MacDonald, who runs the Halifax Cinema Politica---a weekly showing of independent movies on social and environmental justice---thinks the change we need is more fundamental. "By pointing out why Earth Day is such a joke, we are holding a mirror up to industrial civilization and forcing it to admit that it can never be sustainable," he says.
But he hopes that the movies he shows build new community and spark critical thinking. "By getting people to meet and experience a film collectively, an opportunity arises for collaborative critical analysis of the issues and themes presented," he says.
But on a personal level, his work is largely therapeutic: "I feel helpless and trapped in civilization," which he sees as irredeemably unsustainable. "Because of the dominant culture, I am unable to live in a fashion that will allow me to occupy a sustainable position within the web of life."
But there is hope in these and other artistic and educational endeavors, that they are part of a much larger awakening. Failing that, they can at least bear witness, documenting our fall.
Chris Benjamin is the author of the Atlantic Book Award-nominated Eco-Innovators: Sustainability in Atlantic Canada.