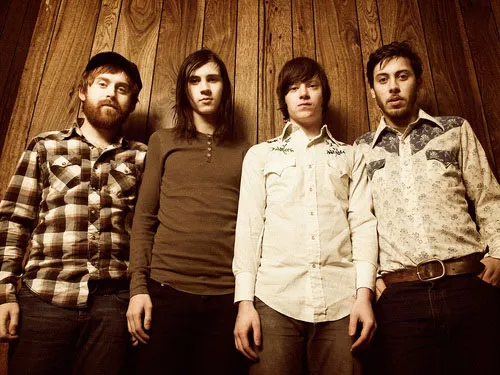 Attack in Black
The Seahorse Tavern, 1665 Argyle Street, 11:40pm, $8
Attack in Black comes to Halifax in support of its 2009 album Years (By One Thousand Fingertips). The four-piece released it in March on Dine Alone Records (home to Arkells, Bedouin Soundclash, City and Colour and others). Hailing from Welland, Ontario, Attack in Black's Pop Explosion show happens exactly one year to the day, October 24, since the release of Fall Tour Split on Dine Alone. That release featured a song by Ladyhawk, Shotgun Jimmie (whom the band has backed onstage) and "I'm a Rock," Attack in Black's jumped-up acoustic-guitar-led tune with a snare drum to snap you to attention. The song's all about seeing things clearly, as if for the first time. Another in the great tradition of revelation songs, it also appears on Years (By One Thousand Fingertips). Elsewhere, the band jolts you awake with circuit-burning electric guitars. (SF)
Plays with: The Mighty Northumberland (10pm), Ex~Po (10:50pm), Dog Day (12:30am)
You Say Party, We Say Die!
The Paragon Theatre, 2037 Gottingen Street, midnight, $13 adv/$17 door
"Oh, you're so just like Karen O, you're just like Siouxsie Sioux.I've had that happen way too many times," YSPWSD singer Becky Ninkovic says. "Sorry, I'm ranting. I hate being compared with other musicians, it happens way too much with women, I feel like it's something that takes away from your individuality. There's an energy behind it that's really negative." So don't assume Ninkovic was trying to replicate Sioux on YSPWSD's new record XXXX, but the band may have channelled her. Their producer had a record on display in the studio and "maybe the spirit of Siouxsie Sioux oozed out into the room," she says. Recorded following a 2007 meltdown, XXXX, which Ninkovic calls "breaking through the darkness," has a strong '80s sound to it, upbeat and dark at the same time. "It's all we ever listen to, all we've ever wanted to sound like," Ninkovic says, mentioning a "timeless feel." (LK) Plays with: Little Girls (10pm), Zeus (11pm), Japandroids (1am)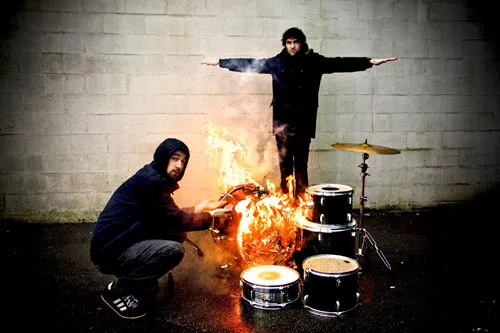 Japandroids
The Paragon Theatre, 2037 Gottingen Street, 1am, $13 adv/$17 door
"We played three shows at Pop Montreal last year, and there was hardly anybody there," drummer David Prowse says. "This year we played a showcase at Divan Orange and it was fuckin' crazy." It's an easy indicator of how much things have changed for the two-piece Vancouver garage band in the past year, with attention from Pitchfork, an Exclaim cover, a North American tour and UK shows lined up after Halifax. Their spring tour was cancelled when guitarist Brian King landed in hospital with a ruptured ulcer, and then "we just hit the road again as soon as he got better," Prowse says. But they're still interested in supporting the scene back home, getting the word out about their favourite local bands and nurturing a stronger sense of community there. "Nobody [in Vancouver] really was writing about us until we got exposure in Pitchfork…we called one paper on it. I think people are kind of listening to what we're saying." (LK) a
Plays with: Little Girls (10pm), Zeus (11pm), You Say Party! We Say Die! (midnight)
Diemonds
The Toothy Moose, 1661 Argyle Street, 1:45am, $8
Hailing from Toronto's east end, Diemonds are turning more than just the heads of stroller-pushing moms in the Beaches. Clad in leather and denim, with long hair, tight pants and bullet belts, Diemonds are making hair metal cool again. "Each show we play gets bigger, and every time there are more people there with long hair and wearing Skid Row shirts," says guitarist CC Diemond. "It's surprising the people that come out of the woodwork once there's something to gather around." Their debut album, In the Rough, is a seven-song, beer-bottle blow to the skull. Lead singer Priya Panda is a rock 'n' roll femme fatale, wailing better than Axl Rose in his prime. It's also refreshingly light on guitar solos with songs clocking in around three minutes.
In a genre noted for cheese, Diemonds is more into partying than spandex: Poison is the last thing they want to be. They're rock 'n' roll fans before musicians, and that fuels their passion for the genre. "There's no gimmicks. It's just we are who we are," says Diemond. "I may have long blond hair but it doesn't mean I'm into make-up and all that goofy shit. The proof is in the music."
They know hair metal will never be as popular as it once was, and they don't have ambitions of being the next Mötley Crüe, but that won't stop Diemonds from being as loud and nasty as possible. Known for rowdy gigs, the band has been banned from three Toronto bars for inciting rowdiness and bottle smashing.
"We're never going to have that overwhelming Miley Cyrus impact on people, but you just got to stay true to what you know and what you love. Hopefully, people will see we're doing it because we love it, and maybe they'll love it too." (ML)
Plays with: Bike Rodeo (10pm), Thrushes (10:45pm), The Pack AD (11:45pm), Carpenter (12:45am)