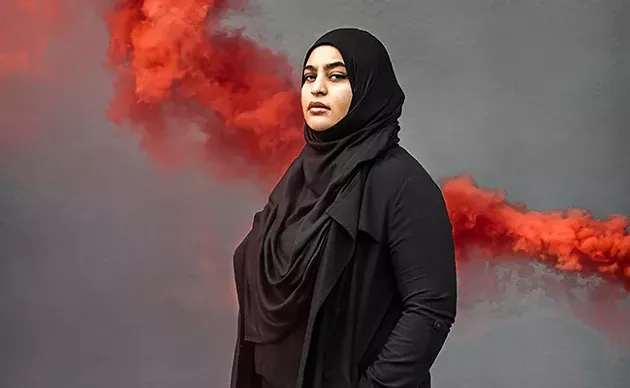 Professors, students and staff at Dalhousie law are speaking out in support of Masuma Khan, as hate speech and violent threats against the student leader flood in.
Since The Coast
first reported on Khan's case last Thursday
, the story—and a firestorm of response—has broken open across the country. The vice-president academic and external for the Dal Student Union is facing potential disciplinary action from the university over a
Facebook post
where she commented that "white fragility can kiss my ass."
Threats against Khan are spiking in the wake of the news, with the student and
her lawyer
posting several examples over the weekend.
An example of messages Khan received and later shared on social media.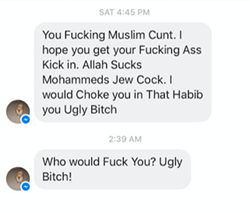 "I'm horrified by the hateful and violent messages directed at Masuma Khan," says Jocelyn Downie, law professor and co-author of a
letter signed by over 20 professors at Dalhousie
, all voicing their support for Khan.
"Encouraging speech which challenges us as a community to reflect upon our roles in colonialism, oppression of marginalized communities and systemic racism is critical to the mandate of this (or any other) university: censoring such speech is antithetical to that mandate," reads the letter. "Members of the Dalhousie community must be permitted to speak to these issues freely, with
emotion or even anger, especially those who come from communities which have historically been silenced and marginalized on the basis of race, gender, sexual orientation, sex, ethnicity, ableism, or religion."
The hate speech directed at Khan must motivate Dal to find a way to better protect its students, says Downie, who's also concerned with Khan's protected rights to political free speech.
"University censorship of political expression should not be tolerated."
Philosophy professor Letitia Meynell points to the charter of rights and freedoms in defending Khan's free speech, specifically, section 15b, which protects "activity that has as its object the amelioration of conditions of disadvantaged individuals or groups including those that are disadvantaged because of race, national or ethnic origin, colour, religion, sex, age or mental or physical disability."
"This seems to me like a sensible norm for public institutions to follow," Meynell says.
Downie says it's "unprecedented" in her experience that political speech could mount to "evidence that a student has committed an offence."
As reported by other media sources, Khan's remarks prompted a formal complaint from graduate student Michael Smith, who also
wrote an opinion piece
attacking her comments for the
National Post
.
This is what prompted the university's vice provost to initiate a hearing about Khan's comments with the senate discipline committee—a formal judicial measure that
wasn't even applied during Dal's dentistry scandal
two years ago.
While she awaits that session later this fall, Khan continues to be the subject of
hate speech
.
This isn't the first time she's received violent threats. In fact, Khan first approached Dalhousie's vice provost with similar messages when the story garnered national attention back in June. Khan says the school told her those messages weren't "violent enough" to justify a safety plan.
"Their definition of violence is very different," she says.
In response to the violent messages directed at Khan, Dalhousie president Richard Florizone
released his own statement on Twitter
over the weekend, writing: "Let's be clear: At Dal we abhor racism, gendered violence, and Islamophobia."
Meanwhile, Downie says the case is providing an opportunity for Dalhousie to look inward—from the top-down.
"I would like to see Dal take a step back and take a hard look at our own institutionalized racism. So long as we deny its existence, we won't be able to address and ultimately eliminate it."
You can read the
full letter here
.