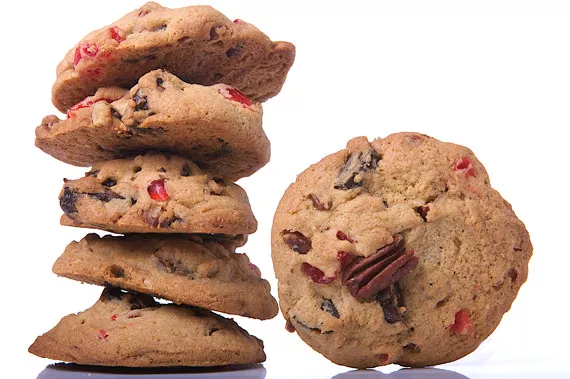 Oven: 350° preheat
Pan size: This is large recipe. Half this for a small family
Ingredients
8 oz vegetable shortening 15 oz packed brown sugar 2 eggs ½ cup buttermilk 21.3 oz flour 1 tsp salt 1 tsp baking soda 9 oz cherries, halved 9 oz dates, chopped 7 oz pecans, chopped
---
Method
Use electric hand mixer and cream shortening and brown sugar until fluffy.
Beat in egg and buttermilk. In a separate bowl, combine the flour, salt and baking soda. Gradually add to creamed mixture.
Stir in cherries, dates and chopped pecans.Drop by spoonful (use small ice cream scoop for uniform cookies) on parchment paper, top each cookie with a pecan half.
Bake until golden brown (approximately 15 to 20 minutes). Try a test cookie for best results. Cool on a rack.