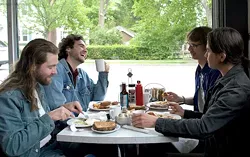 The members of Halifax's Daveband are happy and don't care who knows it. The four piece, who describe themselves as vintage, Buddy-Holly-era rock 'n' roll, are smiling wide over cups of coffee in their favourite diner.
The band members have every reason to be beaming: While they sit, their debut, self-titled EP is at the printers getting emblazoned with the band's logo before its release concert at Gus' Pub on Tuesday, June 21 at 9pm.
The three-song effort is a brief introduction to the 11-month-old band, but instantly offers an idea of who they are through storytelling lyrics and upbeat melodies. Daveband's sound is "quick and propulsive, non-psychedelic sunshine-y pop," says drummer Kevin MacIsaac, while the others laugh.
"It's kinda earnest. There's something very fun and approachable and friendly in a way that a lot of musicians shy away from," adds lead guitarist Campbell Woods.
"A lot of my songs are about being in my 20s and working a job and being a dirtbag on the weekends in Halifax. I strive to write simple, honest, relatable songs," says lead vocalist and guitarist David Archibald (and yes, he's the "Dave" in Daveband).
Perhaps Woods sums the band's musical aim best: "It's interesting to be super-specific. Maybe you'll connect with less people but the people you do connect with completely identify with the situation you're talking about. It's to take something sort of mundane and weave in a profound underpinning."