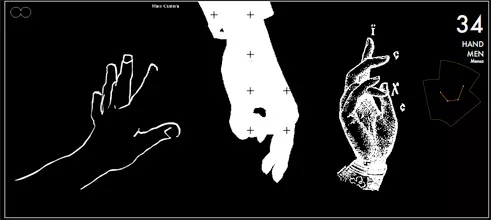 If you haven't been exposed to David Clark yet, you're in for a treat. The Halifax artist and teacher makes "feature-length" net.art, and his new website, 88constellations.net, is another stunning example of how the internet can be used for more than just kitten videos (not that there's anything wrong with that). 88 Constellations for Wittgenstein (to be played with the Left Hand) is similar in set-up to Clark's 2002 interactive, non-linear piece, A is for Apple (aisforapple.net), which uses layers and layers of associative links, video, audio and images to get to the core of the apple—-from New York to The Beatles, Snow White to the Macintosh computer.
For 88 Constellations for Wittgenstein (to be played with the Left Hand), Clark explores the teachings and life of philosopher Ludwig Wittgenstein, in 88 sections, each which corresponds to a constellation in the sky. Clark is probably one of the only people who can connect French impressionist composer Maurice Ravel to the Steve Miller Band. Lefties will appreciate animations triggered from the computer keyboard that require a left-handed touch—-an homage to Wittgenstein's brother who lost his right arm in World War II, but continued to perform piano works composed for the left hand.
On Tuesday, October 6 at 6pm in the CBC Radio Room, 5600 Sackville Street, Clark was will talk about another project,
The End: a Digital Opera in Seven Colours, which he worked on as a CFAT artist-in-residence. He describes the project as "a non-linear digital opera for the internet. It is an extension of my interests in non-linear narrative film, interactive sculpture, and feature-length interactive net.art."