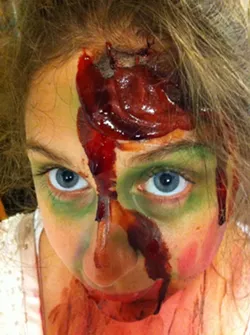 ZomRomCom is a brainy comedy

Ne Desperemus
This show sparked a spirited debate among my fringe companions about what patrons expect from a fringe festival.
When people plunk down $5, do they expect a polished piece of theatre? Is part of the fun playing "hunt for the fringe treasures", knowing that you'll need to spend time and money on shows that simply do not measure up?
Ne Desperemus lists seven people as its playwrights, and its clear that they did not agree on what this play should be about.
Ostensibly about "growing up", the story meanders through everything from quests for silver to picking a thesis. It's filled with inexplicable scenes that do nothing to advance the story.
The people acting in the play are having fun, but the audience isn't.
My advice to first-time playwrights is to work with experienced actors and an experienced director. My advice to inexperienced actors is to pick a well-written play. And while the Fringe is happening, it makes sense for everyone interested in making theatre to get out there and learn from the other shows.
Art Gallery of Nova Scotia, 45 minutes, $5
September 7 @ 6:45 PM
The Mind Diddlers Present: A Special Spectacular Spectacle by the Mind Diddlers
Comedy is a very personal thing. What makes you laugh may not make me laugh, and that's okay.
That being said, I don't feel too bad about saying that the Mind Diddlers didn't make me laugh much at all.
The premise and shape of their show is clever. It's set up as a flashback to a time told in video projections where the "now-famous" Diddlers were just starting out.
It fills in their back-stories (one's a lesbian ex-con, one's a southern lawyer suffering from Benjamin Buttonism, one's a black-and-white character (literally) who brought to full colour by music, and one's a penis-obsessed waiting room male stripper (?))
The four comics (Emma Cooper, Bill Williams, Allison Pound, and Jeremy Doucette) then recreate their first show for the audience.
My funny bone was not tickled by their material, but maybe cock ring jokes and holocaust humour will do it for you.
Neptune Studio, 55 minutes, $5
September 7 @ 8:30 PM
ZomRomCom by Scott Sharplin
Sam (Erin Thompson) and Jesse (James FW Thompson) have been in a long-term relationship seemingly based solely on their love of all things zombie.
They bicker constantly, and when this play opens they are having a heated disagreement (while dressed in full zombie garb) in a theatre about the relative merits of the Living Dead movies.
The banter of this couple made me laugh out loud, and the plot twist from romance to apocalyptic comedy was definitely clever.
While not everyone is knowledgeable about zombies, most are about relationships, and that's what makes this show appealing (though not appetizing) and fun.
Neptune Studio, 60 minutes, $10
Suicide Makes Sense by Sam Bambrick
Now here's an example of one of those smart little plays that you can stumble across in a fringe festival.
I didn't know the playwright or any of the actors in Suicide Makes Sense. It hadn't registered for me that the play was going to be a comedy, not something darker. I went with zero expectations.
I was oh-so pleasantly surprised by this smartly-written, well-acted, gently funny piece.
The premise of a playwright manipulating his characters in a way that the audience can see is not original, but it is amusing.
I'm filing this play amongst my fringe small unexpected pleasures.
Museum of Natural History, 30 minutes, $6
September 6 @ 6:45 PM
September 7 @ 10:45 PM