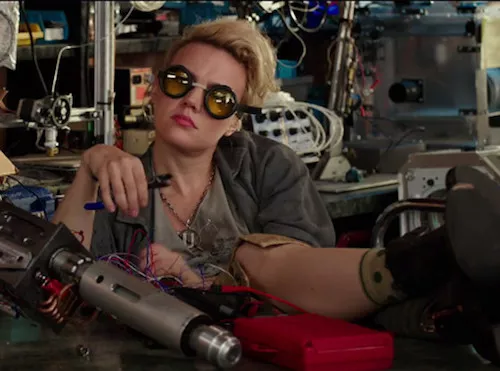 Safety lights are for dudes
Dear Kate,
Pride Week is winding down in Halifax and your excellent film, Ghostbusters, opened as it was beginning. A lot of people had not seen you before this very high-profile movie, despite your outstanding work and near-iconic Justin Bieber impression across the last five seasons of Saturday Night Live. "It's her first film!" I chirped to a friend, similarly staggered by seeing your incredibly weird, totally hilarious, very queer and revelatory performance as Dr. Jillian Holtzmann, physics genius. A quick imdb check reveals you have more than three dozen credits, but it really is your first film, that is to say your first real lead, in a cast of very talented people. And you just reached over in your yellow-tinted glasses, bomb-ass oxfords and swirl of blonde hair and simply plucked the movie from the hands of Kristen Wiig—who was you, before you were you, on SNL—and Melissa McCarthy, one of our leading movie stars. Just swaggered away with a whole film on your back.
Through a single performance you can sometimes witness the future snap into place for an actor—Amy Adams in Junebug, Jennifer Lawrence in Winter's Bone, Ryan Gosling in The Believer—and in Ghostbusters this happens for you right after you lick a gun and enter a slow-motion ghost fight: Alone, capable, powerful and gay as all get out. The movie is very funny—and like the original, about fighting goddamn ghosts so let's all just calm down—but Holtzmann? She's the real otherworldly force here.
In awe, Tara