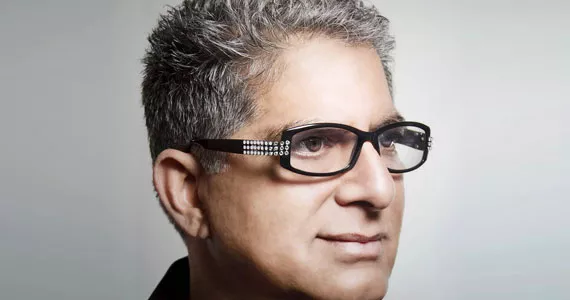 "You can't have ecological transformation unless there's a personal transformation."
Why even bother with Earth Day? It's been decades since the annual day of ecological awareness was conceived, and the condition of the globe has only seemed to worsen. Climate change is still debated as potentially mythical, the oceans border on collapse, fracking causes drinking water to catch on fire and political leaders remain unresponsive to the demands of hippie, treehugger activists. Nothing we do matters.
Or so it seems. While the health of the planet has continued to be threatened, awareness about environmental struggles has permeated the culture. Yet, little progress appears to have taken place. What is it about educating people on ecological issues that causes such inaction? How do you teach humanity to save itself?
"You can't have social transformation or even ecological transformation unless there's a personal transformation," says Deepak Chopra. "There's a radical shift that has to take place inside your own self."
Chopra, the world-famous guru, has spent decades teaching thousands to embrace a spiritual self-awareness. But his expertise isn't just limited to the physical body. Chopra sees the planet as an extension of our selves: the trees breathe as our lungs, rivers flow like our veins.
"Biological organism, and the environment, these terms themselves are scientifically inaccurate because they show a separation of life that is not there," he says from Los Angeles. "There's no boundary there, that's a notational boundary. It might also be a perceptual boundary, but it's not a real boundary. When you create an artificial boundary, you've created something like the Berlin Wall. Something that you have to confront, having to heal it. When you in fact need to heal yourself."
Chopra is travelling to Halifax as keynote speaker at the Emergent Learning conference, a two-day event which mixes inspirational, practical and informative approaches to learning. He isn't going to be in town to talk about ecology. But that doesn't mean he lacks ideas on how to solve the environmental crises we face. "Is your house green? Are you using solar energy? When you take a jet plane to go somewhere, do you plant a tree? You have to always bring it down to a personal, self level. And also in the case of environment, bring it down to your family and your children and your grandchildren. What kind of a world do you want to leave for them?"
But healing the Earth via a cadre of spiritually enlightened protectors who enclose oil spills and stop deforestation through sheer force of will may, in fact, be too fantastical an idea to be practically implemented.
"I think that it would be risky to assume that everyone has to achieve a state of personal, kind of, enlightenment and spiritual well-being in order for us to have a sustainable society," says Steve Mannell. "If we have to wait for everybody to get to that state, it's going to be hard."
The director of Dalhousie's College of Sustainability, Mannell believes active solutions to real world environmental problems come through collaboration. Even if that means collaborating with those you don't really like. "The people who we wouldn't necessarily sit around a campfire singing songs with have to be on board with this," he says. "As well as the people sitting in boardrooms, as well as the people we like to hang out with. If environmentalism is only for those who are spiritually or emotionally or culturally enlightened, then we're probably going to lose. We're just going to have an increasingly miserable time on the planet for generations to come."
Opened in 2008, the College of Sustainability has brought together over 1,500 interdisciplinary students with instructors from a diverse assortment of studies. The goal, says Mannell, is to foster an environment where creative solutions are born: "What we're actually trying to give them is the opportunity to tackle the actual challenges that exist in the world and think about how they can make a difference. Awareness is fine, but to some extent, certainly for our students that come in they're extremely aware of the sustainability challenge...what they don't have is a sense of agency."
Environmental tactics can be fuelled by individual willpower, says Mannell, but we have to make them simple enough to get others on board. That last part is important, because even politically-enforced ecological efforts can be harshly rejected if people fear their personal liberties are being infringed upon. Like when the government took away our toilets.
"In Canada, when there was some interest in things like water conservation and federal law mandated change to low-flow toilets, you had this kind of bootleg thing going on. People going and buying the old toilets as long as they could," Mannell says. "So if we bring stuff top-down without really sensitizing people to the real value, and also demonstrating the accomplishments to come out of those changes, it doesn't last."
Symbiotically, knowledge and action feed off each other, making even the smallest environmental efforts lead to bigger things. Take Tamar Eylon, for example. The events planner and volunteer coordinator at the Ecology Action Centre is currently working with kids at St. Joseph's-Alexander McKay school on an environmental art project. "We're going to be reusing materials and probably making some type of outdoor installation that's focused on water," she says. "That's kind of a very low-level engagement, where we're saying, let's just even begin reassessing the things we take for granted."
The EAC offers a street-level approach to environmental activism. Volunteers are paired up with projects that match both their interest and commitment levels. No one ends up taking on more than they can handle, preventing idealogical burnout and offering tangible efforts that actually feel like they're making an impact. An important aspect, since everyone knows we're all doomed anyhow.
"When I'm talking to people, there's a lot of inherent defeatism about how powerful oil companies are," says Eylon. "But, we don't really have a choice anymore."
Steve Mannell has had some of those thoughts of futility before. The professor of architecture remembers being outraged a few years ago at the PR-friendly "green" policies of notorious consumerism targets like Walmart. "Then one of my colleagues said, 'You know, if every Walmart shopper or every Costco shopper made choices that were five to 10 percent better from an environmental perspective, that would probably have more of an effect than all of the environmentalists doing 100 percent.'"
Since then, he's seen a renewed sense of optimism in the students entering his college every year. "It's very hopeful, but it's a critical hope," he says. "It's not a kind of naive, 'If we all think the same thing we'll be fine,' but kind of more that we need to develop serious skills and take serious steps towards making a better future."
There's a lot of people on the planet. Maybe if we all helped carry a little bit of the ecological load the problem wouldn't seem so daunting. For once, overpopulation could even turn out to be useful.
"Many of the solutions required for the transformation of our society into something that isn't self-destructive requires cooperation and requires solutions that mean we pool our resources," says Eylon. "Maybe in terms of inspiration and motivation, someone needs to have an 'Aha!' moment, but to get anything done it's going to have to be in a group."
But every journey begins with a single step. And every ecological solution will start with one thinker. Deepak Chopra might just be that man.
"There's the, what are they, the early adopters, then there's the outliers and then the tipping point, and then there's laws and regulations," he says. "I think today, because of social networks and the way that media influences everything, it's going to be a monumental effort. If you don't succeed, then we're risking mass extinction."
Aside from travelling to conferences like Emergent Learning, Chopra has written several books, features videos and articles on his website, and spends thousands on charitable programs every year through his Chopra Foundation. He travels, nearly constantly, bringing together those seeking to spiritually grow.
"I do this every day with somebody or the other," he says. "I'm hosting a program in New York City on the 19 of this month where Yoko Ono and a lot of other activists, Susan Sarandon and others, have promised to drop in and voice their concern about what's happening."
For the trained physician, nothing in the environmental body of the world will heal until its individual atoms---you and I---reach enlightenment first. "We've reached a crisis, and it's urgent. The patient is dying, you know? Either we can let the patient die, or we can resuscitate the patient. There's still hope if you do."