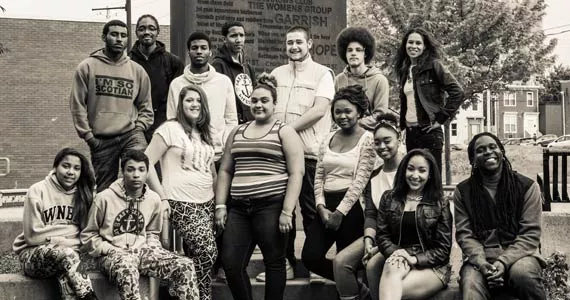 Scott Munn
Members of the MacPhee Centre for Creative Learning launch Hipopera this weekend.
Most of us can remember our first foray into high school theatre. Usually in an auditorium, usually performing---with varying degrees of enthusiasm---a play carefully vetted by the drama teacher, usually about high school, usually written by someone you've never heard of, lucky if it was written in the last decade.
Contrast that with the youth of the newly named MacPhee Centre for Creative Learning---this month the board changed the name from Bridge Centre for Arts and Technology (AKA BridgeCAT), to honour a generous donation from auto dealer Al MacPhee and teacher Mary MacPhee--- debuting their first musical on the stage of the Neptune Studio Theatre: Hipopera.
Sobaz Benjamin, the creative director of the centre, describes the play as "a high school musical meets Uniacke Square.
"A lot of young people in Uniacke Square, North Dartmouth, Preston, Spryfield are usually considered---although I don't like using this term---youth at risk."
The centre has supported the youth so that this performance was able to happen. The young people will tell their own stories about various high school and life struggles in their own words.
"We meet a handful of young people, each in a different context," says Benjamin, "making choices between selling drugs or making money legitimately, staying in school or dropping out, being bullied, young girls tired of being objectified by boys, trying to make their lives better and they are all preparing for a talent show with a $5,000 prize and honing their skills."
Benjamin also facilitates programs at the Centre Line Studio and In My Own Voice (IMOVe), since 2007. "They come to school with these stories," he says, and because of the involvement of the MacPhee Centre, "became possible to revisit the idea [of a musical] that had been bouncing around. Neptune's involvement made it ever more possible."
Benjamin asserts that the youth are very much running the show. "The role I've been playing is of the producer---but we wear multiple hats. El Jones has been facilitating, Lindell Smith has been the music engineer, working with me getting the young people to a point where they feel empowered enough to self-direct," Benjamin says. "It's not a conventional piece where you have a director, but there are other elements of leadership. They are running rehearsals themselves. We've stepped away and said, 'OK now you guys now have the tools, so go ahead and run it.'"
Alex Ross (also known under his rap name Cunny) is one of the youth involved in the performance---as an aspiring rapper he wrote all his own rhymes. "It's actually really fun, I'm really happy to have this opportunity," Ross says. "It's important because I think other people can relate to these situations. We've come a long way with this, we've been working on it for three years, and I'm happy we succeeded."
Self-direction has been an important part of Benjamin's teaching with the MacPhee Centre, Centre Line Studio and IMOVe. "The aim of IMOVe was not to turn young people into artists, but to use it as a tool of empowerment," says Benjamin. "Because of that they've shifted and transformed, they've stepped up to the leadership role.
"The seeds have been planted, and they're growing."
---
Hipopera
Saturday, July 5 at 2pm and 4pm, $20
Neptune Studio Theatre