Mat Dunlap
swing battah swing! ELG team organizer Brendan Dunlop
Eyelevel Gallery knows all about the art of losing. The artist-run centre's baseball team has yet to win a game in the four years it's been playing (yeah, yeah, insert joke, sport-o). And yet the team, recognizable for its green t-shirts and lack of ego, is still as enthusiastic as when it first hit the field.
Leigh Dotey
ELG in action.
"We have a lot of fun," laughs ELG director Michael McCormack, who just played his first game—-and lost to the infamous Propeller crew. But there might be hope in the gallery's field of dreams: now the Khyber ICA has a team, too.
Khyber interim director Daniel Joyce says that its team has already played and lost two games—-one against the mighty Propellers and another against The Space Cats, a group of "jock guys who love to blast the ball. They creamed us." But again with the congeniality, Joyce likes the fact that the Khyber's team, organized by members, is a mix of artists, musicians and other people in the community who might not otherwise get a chance to know each other. Intern Keltie MacNeill (who also curated Eyelevel's current show, Ranters, Ravers & Raconteurs), scored baseball pants from Value Village, which they wear with red t-shirts, so give the Khyber a holler if you see them on the Common.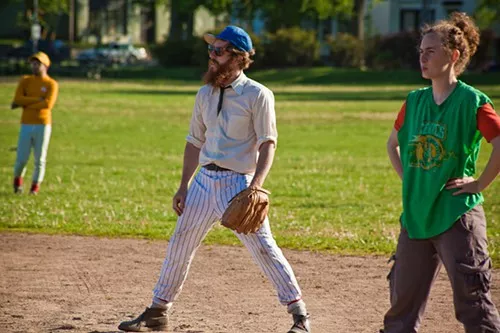 Mat Dunlap
Khyber's Dave Ewenson keeps ELG's Kate McKenna on base.
Sadly, attempts to start a trash-talking rivalry between the city's two oldest artist-run centres didn't work; they are happy cheering each other on. But there's still time before the two teams face off on August 15, in the final game of the season. And it will be an A-Rod-sized celebration: Joyce says there are tentative plans to turn the historic event into a fundraiser with baseball cards, peanuts, mascots and perhaps a dog show.