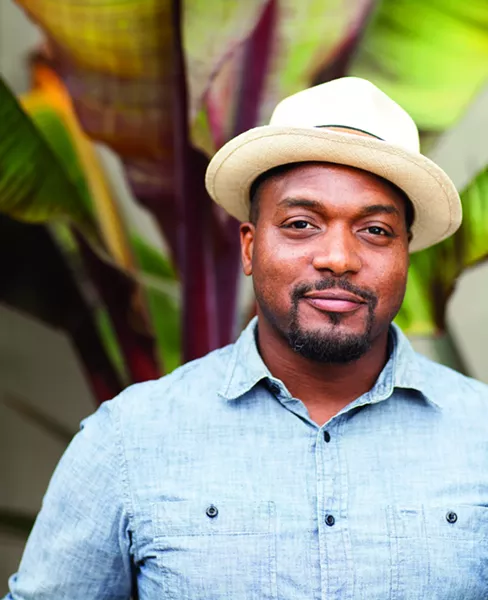 Contributed
Award-winning chef Bryant Terry works towards creating accessible, ethical food systems in the US.
Halifax is about to host the first food law conference in the city—and possibly Canada.
Jessica Rose, a student in her last year at the Schulich School of Law at Dalhousie, is one of the conference organizers. She describes food law as, "any area of the law that interacts with our food systems."
"That can include really broad-based policy-type things, or it can be really specific regulatory systems that ensure certain standards for our production, for our distribution—all of that," says Rose.
The Future of Food Law and Policy in Canada takes place November 3 and 4. The event is a joint effort by Dal's law school and Food Lawyers of Canada, in collaboration with the MacEachen Institute for Public Policy and Governance as well as the Devour! Food Film Festival.
"Each of us takes part in the food system and it's so multi-sectoral and intersectional," says Rose. "On top of that, it's incredibly personal, because everyone can relate to it. Everybody has very personal and familial and cultural stories around food." For these reasons, Rose feels it's important for food to get specific attention in the legal system.
Much of the conference will appeal to folks in the food industry as well as academics and government workers. Rose says they'll be diving into the nitty gritty of policy issues in hopes of making an equitable food system a reality. A talk at the Halifax Seaport Farmers' Market on Thursday gives the general public a chance to join in.
"That was really important for us —to include the public in this broader conversation about accessing healthy, dignified, culturally appropriate food," says Rose, "because otherwise, what's the rest of it for?"
Chef Bryant Terry is slated to speak on food justice as it relates to poverty, justice and public health. Terry is the current chef in residence at the Museum of the African Diaspora in San Francisco, a James Beard Leadership Award winner and has multiple books under his belt.
"The great thing about having Bryant come in to speak is that he really looks at where are these regulatory and policy issues we're talking about actually end up impacting people's lived experiences," says Rose.
While she doesn't want to give too much away, Rose emphasizes that "people's senses will definitely be engaged" during Terry's talk.
"Privileged eaters" –—as most of the conference attendees will be, notes Rose – don't necessarily intentionally think about where our good comes from or how we are able to access it. That's why it's crucial to hold a public event as part of the dialogue.
"Sometimes we don't think about the challenges that our neighbours have in accessing food, which is a basic right," says Rose. "So, without that piece, we'd be really missing something, I think, in the conference."
Bryant Terry Free Public Talk

Halifax Seaport Farmers' Market, 1209 Marginal Road
Thursday November 3, 7:30pm