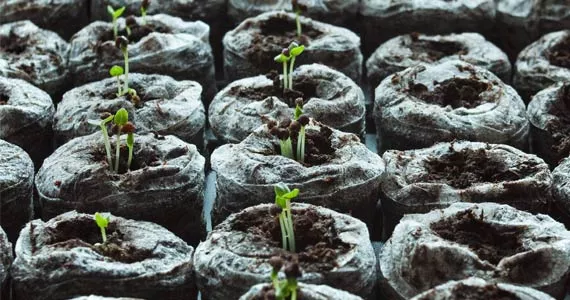 This will be the year I finally stop being lazy and plant a garden. Sure we have no grass, the earth on our land is acidic and our property is ridden with large rocks, but my determination has got to count for something, right? Determination, and sun, water, earth and food will lead me to the promised land of delicious homegrown herbs and vegetables.
I'm sticking to the deck---bypassing the ground completely to get creative. I should be good at this after living in tiny apartments for the majority of my adult life. Who says gardens can't be above ground?
Choose wisely
Start with a plan and pick a few herbs or vegetables to begin. Don't overwhelm yourself by taking on too much. I'm going to tackle cilantro, parsley and dill because they're what I'd use the most. As far as vegetables go, I'm sticking with lettuce, kale and tomatoes.
When growing anything, if you want a quick return you're best to go with starter plants from the garden centre, market or local nursery. If you've got a friend with a green thumb who's willing to split their plants for you, congratulations. Seeds are fine, but you need patience for seeds. I have a baby. Taking care of him requires all of my patience so I have none to spare. Starter plants, please! I'm going to plant them inside, and once I'm certain there's no risk of frost, will transfer them outside.
A tip about the ever-popular tomato: They can be grown in hanging baskets or large pots, and will stay more compact if you get the determinate variety, so better for doin' it on the deck. You can grow indeterminate varieties of tomatoes so long as their stalks are supported, but be prepared to put in a little more maintenance with staking them.
Get creative
Think outside the plant pot. I knew those San Marzano tomato tins would come in handy! I'm going to drill a couple holes in the bottoms and call it drainage, and then arrange them on a tray that can be relocated easily if necessary---instant herb garden. The really big, Costco-sized tomato tins or an empty coffee tin will do nicely for most vegetables. The best part is that when the cold weather comes again, I can move the cans to my sunny kitchen window ledge. ADORABLE!
Looks like the mister lucked out this year: I won't be calling on him to turn any old bedside tables into planters or hammer together any elaborate vertical structures for planting.
Keep them alive
Most plants need six or more hours of sunlight a day to survive. Since I've been in hibernation all winter, I need time to scope out the sunny areas of my deck. For that reason, I'm not planting anything that can't easily be moved.
Ensure your plants have proper drainage so they don't drown. Remember, you're essentially trying to mimic the conditions a plant would have in the ground, above ground, you little trickster, you.
Feed them. Like any good parent, your plants rely on you to read their cues and promptly give them what they need. Keep it simple, ensure they're hydrated and fed. Use a bucket to catch rainwater and put some fertilizer on those greens. Don't let them die. I have faith in you---you can do this.
When the time comes, eat the actual fruits of your labour and revel in the knowledge that if the apocalypse comes and you somehow survive, you've got the skills to feed the inhabitants of a two-bedroom apartment. Well done.