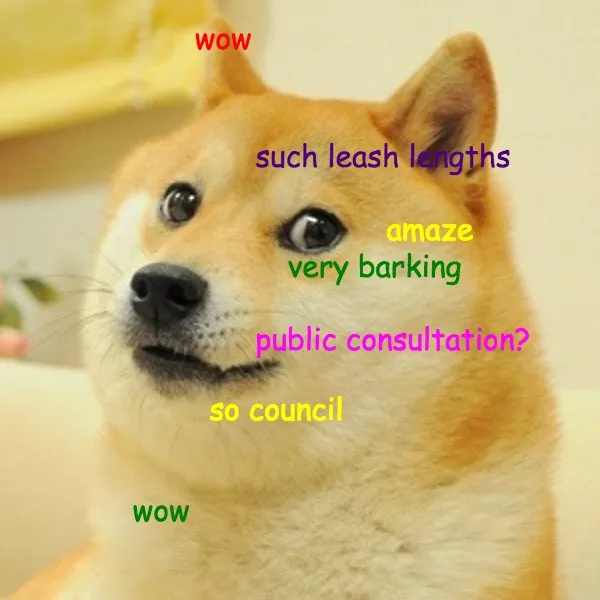 "Why do you hate me, HRM?"
Either the municipality fumbled or people just weren't paying attention. Halifax's new "Respecting Animals and Responsible Pet Ownership" bylaw has been met with outrage and criticism since being passed by a unanimous vote a month ago. Residents and dog owners are calling its mandate too broad, its appearance too sudden. An obligatory change.org petition currently has 1,500 signatures and claims bylaw A-700 was brought into effect "with no true public consultation."
"I think they dropped the ball on this one," says Sarah Warford, owner of the DogRunnin fitness company. "People just didn't know this was going on."
But whose fault is that? The municipality followed its standard formal process for adopting new bylaws. The proposed changes went through two readings at Regional Council and were advertised in newspapers. Residents also had an opportunity to voice their input during a public meeting (which no one attended). In addition, city spokesperson Brendan Elliott says HRM consulted with the Nova Scotia Veterinary Medical Association, the SPCA and Halifax's animal shelter in drafting the bylaw.
"We followed the same public engagement process that is followed for any other proposed bylaw," Elliott writes in an email. "And if residents aren't happy with any current bylaw they should reach out to their councillor, as they are the ones who can affect change."
Many residents have apparently been doing just that. At its last meeting before the holidays, Regional Council approved a motion put forth by Lorelei Nicoll requesting a staff report on implementing a public education campaign about A-700. Councillor Gloria McCluskey voiced her support for the idea, noting councillors have been receiving a lot of emails about this subject from concerned pet owners. 

"They don't understand some of the parts of the bylaws, so I think it's good we're doing something like this to educate more on this campaign."
But Warford would have liked to have seen more input solicited before the bylaws were passed—not after.
"I'm trying to be as humble as possible, but they didn't speak to anyone who's a professional who's working with dogs," she says. "I just think the more points of view you have speaking into a situation, the better of a position you're going to be in in the end."
The comprehensive new bylaw comes out of several different council motions dating all the way back to 2009, when councillor Stephen Adams asked about outlawing the feeding of water fowl at HRM lakes. It repeals and replaces the previous animal bylaw (A-300), and amends several legal definitions. Cats, for instance, are now officially recognized as "animals" and owners can be charged if their cats attack someone.
But the specific alterations of most concern to the city's pet owners are changes to leash lengths and nuisance thresholds. Previously there was no limit on the length of a leash and a dogs had to be barking for more than 20 minutes to be considered a nuisance. Now, leads can't exceed three metres and a neighbour can report a barking dog as a nuisance provided they complete a "barking log" over a period of seven to 10 days.
"It opens the door to too many situations," says Warford. "I don't like your dog, so I'm going to call in a noise complaint."
Behavioural trainers and canine sport athletes also regularly use 25 to 50 foot leashes, Warford says. That's a small minority affected by these bylaw changes, but nevertheless A-700 doesn't allow for those nuanced scenarios. Which is a shame, she says, since everyone here is after the same goal: responsible dog ownership.
"I think at the very least we're all having a conversation about what does that look like," Warford says.