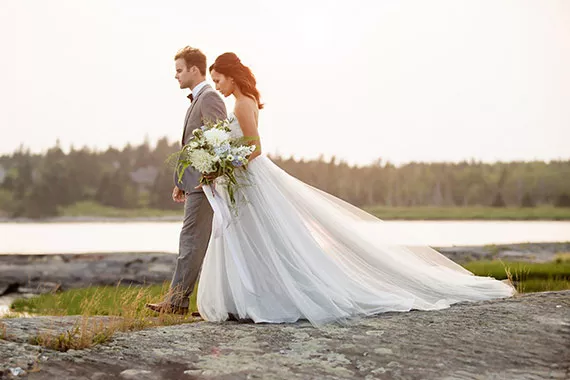 Chantal Routhier Photography
The Addilyn: Inspired by the coastline, this gown uses colours and textures that reflect it—layers of ivory and grey tulle, over a base of duping silk and hand-sewn appliqués.
Halifax designer Katrina Tuttle is a bit of a dress expert. She's made a name for herself with her fun and fabulous party dresses and evening-wear, dabbling in custom bridal creations along the way. But it wasn't until she started planning her own wedding that she considered plunging full-time into the gown design. "I knew i was going to make my own, but I could only find bits and pieces of what I wanted in a dress in most stores," says Tuttle, who launched her gorgeous Katrina Tuttle Bridal line less than year ago. "I wanted to be able to give that experience that someone could say 'I like this part and this part.' I like to be able to see the personality come out in a bride's gown." Looking to nature for texture and colour inspiration, experimenting with luxury fabrics, hand-sewn details and colours outside of the regular wedding palette (this year she made an emerald green lace gown), she's giving brides—not just in Nova Scotia, but across the country—the opportunity to wear something that's unique, and utterly them. "People want something a little more personal, and they're willing to go outside the box to find something that's just for them," says Tuttle of her custom creations. She's already almost fully booked for the 2016 wedding season. "It comes back to the client and seeing someone fall in love with something, or have a vision they had in their mind turn to reality." katrinatuttle.com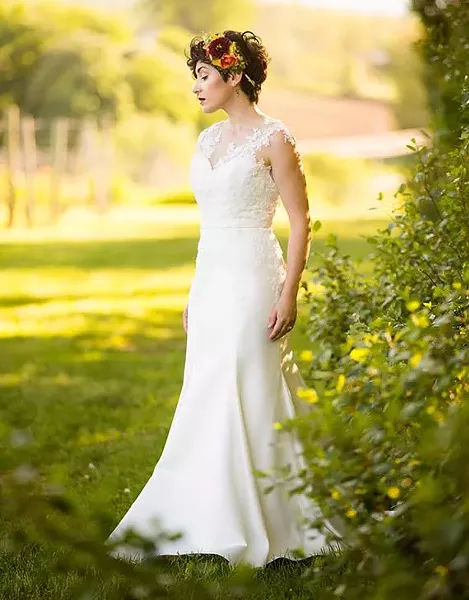 Chantal Routhier Photography
The Charlotte: A feminine, curve-hugging silk satin gown, covered in hand-beaded floral lace appliqués. "I wanted to create a gown that would showcase beautiful floral details that could stand on their own but also transition into the silhouette of the gown," says Tuttle.