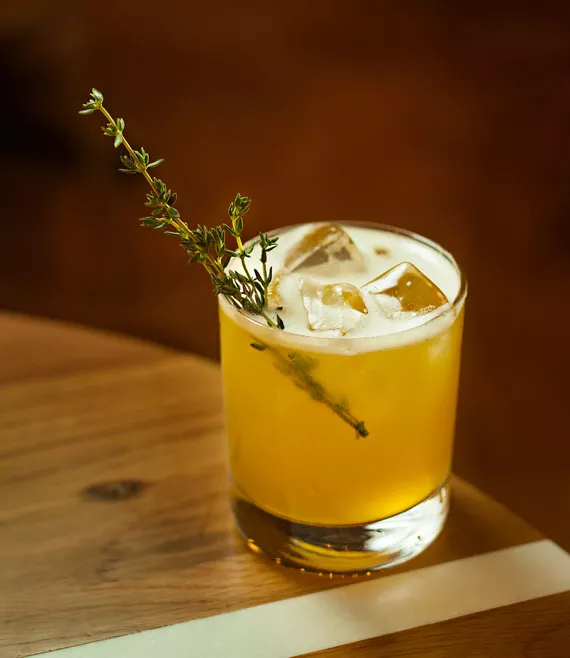 Lenny Mullins
Andy Dunphy of Little Oak's creation, Two Thyming
"Some of the recipes just kind of come to you—you'll know you want to work with a certain spirit or ingredient and you'll know it just works," says Little Oak bartender Andy Dunphy. That's how he struck gold with current menu standout Two Thyming, an approachable, earthy and seasonally affective cocktail, inspired by both bourbon and a stroll through the produce section. "I kind of just look at what ingredients are available right now, or if there's a certain thing I haven't used before," says Dunphy, "like fresh turmeric."
He's one of 30 cocktail chemists who'll be taking part in Savour Food & Wine Festival's annual winter warmer, Imbibe. The drink-centric event gathers bartenders from restaurants and bars across town and teams them up with NSLC reps to showcase a stellar lineup of artfully created drinks and the spirits that go into them. Attendees get to sip on samples galore, vote for their favourites and mix with some of the city's top mixologists. At Thursday's event, Dunphy will use George Clooney's Casamigos Reposado tequila (a real thing, he co-owns it) as his liquid muse, but you'll have to be there to get a taste. For now, he's shared the secrets behind Little Oak's colourful herbal remedy:
Two Thyming
1.5 oz bourbon 
.5 oz Drambuie
.75 oz lemon juice
.75 oz ginger, turmeric, cumin, honey syrup (see below)
Sprig of thyme

Place all the ingredients in a shaker tin and shake with ice, then fine strain into an Old Fashioned glass, on the rocks. Garnish with another sprig of thyme.
Honey syrup
Toast a teaspoon of cumin in a pot on low heat until fragrant, then add:
1 piece of fresh turmeric (peeled and diced)
3 times as much fresh ginger (peeled and diced)
2 1/4 cups of water
a pinch of salt

Bring the mixture up to a simmer for 15 minutes, keeping the lid on so as not to lose too much water. Let cool for approximately 30 minutes, then strain out all solids and add honey in a ratio of one part honey to two parts remaining liquid. Stir well and keep refrigerated.
Imbibe
Thursday, January 26, 7-9:30pm
World Trade & Convention Centre
1800 Argyle Street, $55
savourfoodandwine.com