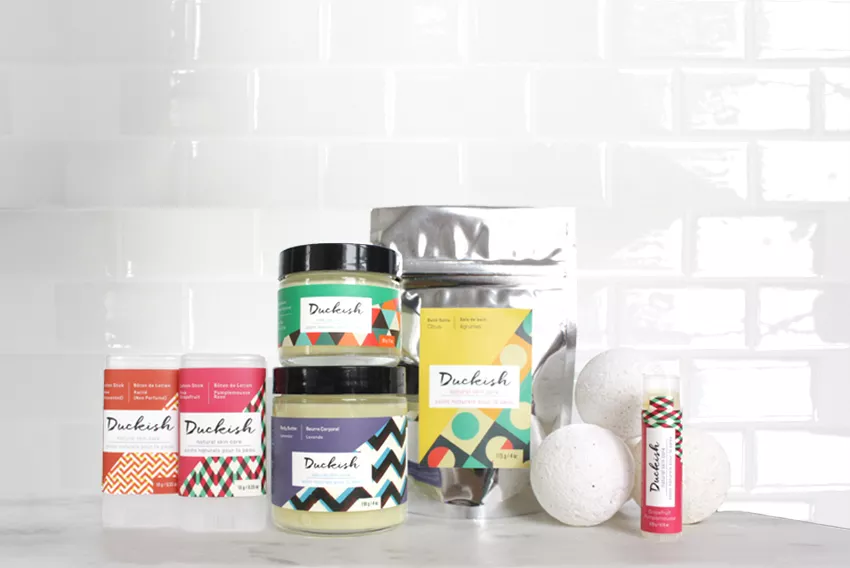 Duckish's Best Kind bundle (body butter, lotion stick, bath bombs etc)
Carolyn Crewe is possibly the world's greatest aunt. Together with her partner, Josh Beitel, she officially launched Duckish—a line of handmade skin care—earlier this fall, and she credits her nephew for inadvertently helping to get the business off the ground.
"Josh and I have really been interested in ingredients for a long time, but the real kind of starting point came when my sister had a baby a few years ago," says Crewe. "I was looking at the products she had and saw things I didn't like."
After doing some research, Crewe started making homemade—and natural—versions of diaper rash cream and giving samples to friends, and friends of friends. Soon, she started experimenting other skin-friendly products—body butters, lip balms, bath salts and the sort—friends told friends, and suddenly the pair had an entire product line.
"We had both been looking for an entrepreneurial avenue," says Beitel. "We had MBAs but we weren't interested in working for a corporation." So became Duckish, a mainly e-commerce business named after Newfie slang.
"It's that time of day when the sun has just set, not quite day or night. I'm obsessed with sunsets I want to stop everything and just watch the sunset wherever we are," she says. "So it's a tip to my Newfoundland roots but also, if you're going to have a mini spa time, wash the day away, that's the time you're going to do it."
For now you can find Duckish products at duckish.ca, Moksha Yoga Halifax (1512 Dresden Row) and at Holiday Pop-Up Shop at Wonder'neath ((2891 Isleville Street) and the Last Minute Christmas Fair at the Government Wharf in Eastern Passage.