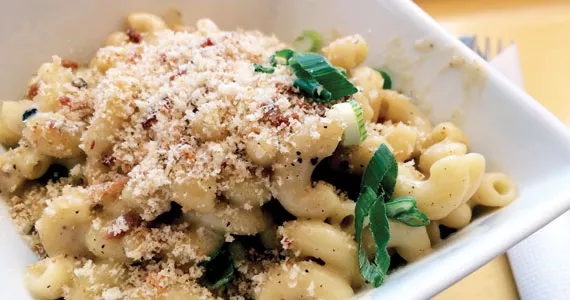 Eats! specialty side is this slightly smoky, smooth and creamy mac and cheese.
Eats! Urban Lunch Counter doesn't look like much more than a counter. One entire wall of the restaurant is made up of the nook where the lone server stands, part-prep station, part-display counter, part-cash station. Another wall is taken up with soda fridges and another display unit, seemingly unused. The rest of the dining room is made of one huge slab of a table that sits in the middle of the room, bar stools winding around the rest of the space.
Past the counter, though, there is a cavernous kitchen. Outside of lunch fare, Eats! focuses on catering and some cooking classes. The real work is happening behind the scenes.
The lunch menu is simple, focusing for the most part on sandwiches, salads and soups. There are lighter dishes, like hot pots based on trendy bone broth, but plenty of heartier fare, like mac and cheese, and risotto.
We place our order at the counter, and then sit at the table. A few more people amble in as we wait. Service is quite slow, even though the crowd never gets thicker than the same half-dozen people. Unless there is prepared food we've missed while gazing around the room, it doesn't seem like a lunch counter that you could count on for quick take-out.
The Hog Rocker ($14 with side) sounds terrifyingly like a sandwich name plucked from from the Guy Fieri Restaurant Handbook. But even with the overwhelming ingredient list—pork belly, apple-jalapeno slaw, bacon jam, parmesan butter—it's thankfully a little more restrained than the deep-fried, awesome-sauced exclamation points Fieri is known for.
It's really quite a good sandwich. The overall flavour is nice: predominately sweet, slightly earthy, with barely a whisper of heat from the jalapeno. The matchstick slaw doesn't add quite enough of a crisp element—some kind of crackle or crunch would be a nice addition to the sandwich, since the bread is so pillowy—but the rustic, thick-cut pork belly offers some bite.
Our server suggests the mac and cheese as the sandwich's side dish. He actually recommends everything, coming across as honestly proud of the menu, but eventually comes around to the mac, citing it as the restaurant's specialty. It is very good, slightly smoky, smooth and creamy with gouda. It's generously seasoned with black pepper, and topped with a scattering of airy toasted Panko bread crumbs and curls of green onion.
Butter chicken corn chowder ($7 for a cup) is a luscious turmeric yellow, finely dotted with peppery black and smoky paprika red. Kernels of corn add pops of sweetness, delicious with the mild curry flavour of the lush, rich soup. The spoon, already heavy with thick cream, picks up morsels of chicken big enough to hang off both sides of the rim. A thin, crackling papadum is a fragile accompaniment.
Joan's salad ($6) is a lovely, light counterpoint to the heavy soup. Spinach is tossed in a garlic honey dressing with feta, scallions, mint and roasted almonds. Thin coins of golden pickled beets sit on top, while a couple of apple chips have been tucked into the side of the bowl. It's a nice mix of sweet and savoury, humming with springy flavour.
We leave with coffee and dessert squares ($3.50): chocolate zucchini square and a slice of carrot cake. Back in the office we open the clamshell boxes and split them. They are equally disappointing, both dry enough to safely assume they are at least a few days old. The zucchini square is especially chalky, and frosting is grainy and unpleasant.
While Eats! didn't stick the landing with the forgettable desserts, the lunch fare is great. Quicker service would be a treat, but whenever I have the time, I'll be back.
---
Eats! Urban Lunch Counter
250 Baker Drive, Dartmouth
902-407-0855
Read more reviews at thecoast.ca/restaurants