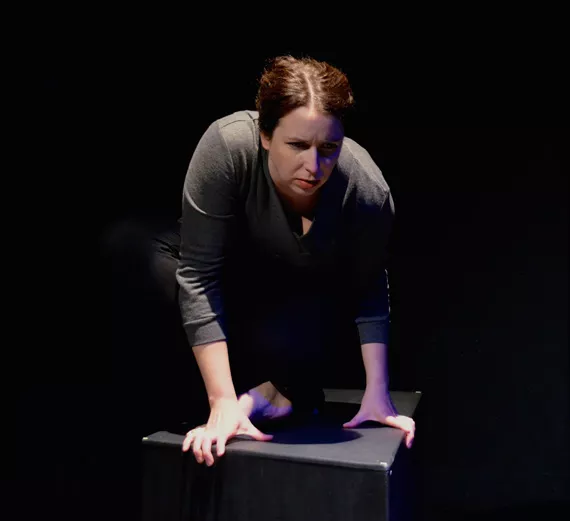 Director Emmy Alcorn has high praise for Stephanie MacDonald. "She's riveting. So connected. So focused. What she has goes way beyond just talent."
MacDonald, a two-time Merritt Award-winning actor, showcases this talent in Mulgrave Road Theatre's production of Watching Glory Die, directed by Alcorn. The play, written by acclaimed Canadian playwright Judith Thompson, is inspired by the true story of New Brunswick teen Ashley Smith, who took her own life in her prison cell while guards watched via video.
MacDonald plays three characters: Glory, the inmate who is originally locked up for a minor infraction but whose sentence is extended because of her volatile behaviour; Gail, a corrections officer who is conflicted by her job; and Rosellen, Glory's adoptive mother who fights tooth and nail to bring her child home. "It's quite astounding to watch Stephanie become all these characters. It's done in a split second. No costume changes," says Alcorn. "I think it's possible for her because she's so committed to authenticity. She has a sense of responsibility to these characters and to the play."
That kind of depth and intensity, says Alcorn, moves an audience to look inside themselves, and to be changed by the experience. "We had people tell us"—after a previous production of the play at Mulgrave Road Theatre in November—"that they wanted to do things like change the world or hug their grandson," Alcorn says. "That shows the transformative power of this play."
---
Watching Glory Die
April 3-12, 7:30pm
The Bus Stop Theatre, 2203 Gottingen Street
$23