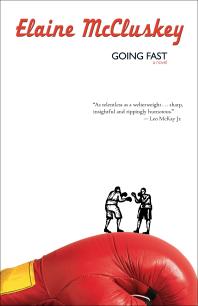 Last Thursday, Elaine McCluskey launched her new novel Going Fast, at the Ultimate Dojo in Dartmouth. This may seem like a bizarre location for a literary event, but McCluskey's book is set ringside to Halifax's lively boxing scene.
Although McCluskey's boxing club is a composite of many gyms she's visited, there is one commonality: Her novel "opens with one of the fighters walking up a flight of stairs and coming into this little gym on the second floor, and even though the book isn't based on the Dojo, you also walk up a flight of stairs into a second-floor gym. My gym, which is called Tootsie's Gym, is downtown Dartmouth in kind of a rundown area. The Ultimate Dojo is also on the second floor, but a much nicer place."
Going Fast, published by Goose Lane, was written about eight years ago, before McCluskey's well-received short story collection, The Watermelon Social. The novel revolves around Trinidadian heavyweight Turmoil Davies, who "represents what everyone wants, but without giving too much away, there's a price to greatness. A downside. He's the most compelling character. You can't have the book without him." Joining the cast of characters is Davis' hopeful trainer and a newspaper sports reporter. The book was written well before the Herald's current problems, but McCluskey, a former Herald reporter, envisioned in Going Fast that the city's daily newspaper would face downsizing and a move to a Dartmouth industrial park.
Halifax has a long, rich boxing history, which hasn't escaped the notice of writers such as George Elliott Clarke (I & I) and filmmaker Chaz Thorne (Poor Boy's Game). For McCluskey, boxing was just part of growing up. It's "intrinsic," she says. "It's one of things that you grow up around, and you don't even know it's different. You don't even know it's not part of someone else's life until you're a certain age because it was always there." McCluskey comes from a boxing family—-her dad, who is 84 now, and his brothers were involved with the sport since they were little guys.
"It wasn't a big part of our lives—-we were kids going to school—-but there were always boxers coming and going from the house, the heavy bag in the basement, smelling salts in the medicine cabinet, and ring record books sitting around the house. My father was always talking about this fighter, or that fighter, it was just part of growing up."
While many see boxing as nothing more than an aggressively bloody punch-up in front of an audience, McCluskey has a much more positive view on the sport. She compares it to being in a rock band, in that you don't know how far it can go. "It's one of those things that feels open-ended, everybody maybe can become champion of the world," she says. "I think every kid that's started a rock band in his garage thinks that they can become U2 or whoever, or Matt Mays. You can be that. So you can be in a boxing gym in Dartmouth and maybe you can become the next Trevor Berbick or George Dixon, champion of the world."