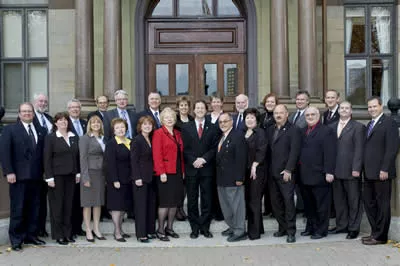 The out-going Halifax council.
Now that the HRM election is over, and the results are in, what does it all mean? There are three important general take-aways, as follows.
Horrendously low voter participation
Before we talk about who won mayor, or what the new council will look like, let's acknowledge the biggest statement made is this election: an utter rejection of voting itself. The elections office says the overall turnout in the election was 37 percent, but district-by-district calculations show even lower turnouts in many districts. In district 6, which covers north Dartmouth, fewer than one in four people bothered to vote. In District 14, Upper Sackville, just 28 percent of eligible voters cast ballots.
Even in the hotly contest south end, where record numbers of students were supposedly going to vote, only one in three eligible voters took advantage of the opportunity to name their next councillor. The closest race of all was in Eastern Passage-South Dartmouth, where Jackie Barkhouse bested Bill Karsten by just six votes; turnout there was 41 percent, among the highest in HRM, but still disappointing.
No doubt, we'll soon hear a lot of criticism of "apathetic" non-voters, but clearly, with electronic voting so simple, something much more profound than simple apathy is at work. The low turnout is an indictment of the entire political system—the flip side of "apathy" is a political process that is not engaging and that predictably brings the same results, no matter who is in office.
There were differences between candidates, but for the most part those differences were matters of style or of relative competence. Nearly all candidates whole-heartedly embraced the same or nearly the same agenda: All were for "reform" of the tax system, with none spelling out exactly what that meant for fear of saying out loud whose taxes would be increased (hint: it ain't the rich and connected). All were tied into the uber-urbanist agenda, without seriously addressing affordable housing in the urban area. All wanted better transit, without saying how they're going to pay for it. All were for open government, and no one believes them. And on and on.
Related to the low voter turnout is that those who did turn out to vote appear to think the status quo is acceptable: 13 of the 16 council seats were won by incumbent councillors. Of the three other seats, one didn't have an incumbent running. For the most part, the vote can be split between two camps: those who like things just as they have been, at least so far as their councillor goes, and those who feel a high obligation to vote (perhaps goaded on by incessant "get out and vote" campaigns) but who have so little information or opinion that they made decisions based on yard signs and other name recognition, and not on a studied consideration of the issues.
Together, the low turnout and high vote for the incumbents reveals a citizenry that isn't engaged. We can point fingers many directions—at apathy, sure, but let's first fault overly cautious politicians who spout platitudes and fill their campaign literature with pretty pictures of their kids instead of detailed discussion of issues; a media that fails to dig down into the fundamental political and economic workings of this town; a business class that identifies its own self-interest as the only valid political concern and only allows discussion of social issues so far as it doesn't threaten to increase the commercial tax rate; and above all, the lack of a widely held and celebrated political culture of advocacy that thrives between elections.
It won't be easy to address the failings behind the low voter turnout, but blaming it all on the disengaged is a disingenuous answer, begging the question, and will only serve to further alienate the disenfranchised.
The end of the Peter Kelly regime
Mayor Peter Kelly is now relegated to the history books, and so are nearly all of his inner circle. Voters failed to reelect Kelly loyalists Bill Karsten and Steve Streatch, and Sackvillians decidedly voted against Kelly's former campaign manager and mayoral office spokesperson Stephen Taylor.
That leaves just Gloria McCluskey and Stephen Adams as the remaining pro-Kelly councillors. Practically speaking, the old boys' club is broken, and we won't have the Kelly circle's manipulation and careful management of information to the selected few, nor the secretly worked-out deals that have characterized the last decade.
New mayor Mike Savage could of course reconstitute a similar circle—and his connections to the Trade Centre Limited network are worrisome—but at least for the moment, we have the possibility of something resembling a level playing field for all councillors.
Also, much of the non-cooperation between the city and province over the past few years can be blamed in no small degree on the personal animosity between Peter Kelly and premier Darrell Dexter. Sure, politicians should rise above their personal feelings, but let's give Dexter a pass on this: the best of us would have a hard time working alongside Kelly. Hopefully, mayor Savage won't engender such disdain.
A less vitriolic council
In terms of the weekly operation of council at meetings, this election will likely result in a step-down from the sometime vitriolic personal interactions of councillors.
For whatever reasons, voters rejected Dawn Sloane, Sue Uteck, Bill Karsten and Steve Streatch, who were at opposite ends of the most pointed personal attacks at council.
Most of that unhealthy interaction can be attributed to plain misogyny—anyone who had sat through a council meeting would've heard firsthand the repeated sighs, catcalls and interruptions coming from Karsten as female councillors spoke, and Streatch seemed to have a particular and almost reflexive negative reaction to any opinion expressed by Sloane.
Both Sloane and Uteck actively defended themselves, which for a certain kind of man made the pair even more loathsome. And so the vitriol doubled down.
It's impossible to say why voters chose against the four—certainly there are many reasons, and they are different for different voters—but to the degree that a rejection of the vitriol enters the equation, voters punished both the instigators and the victims.
Still, that leaves a council that is, for the moment at least, less openly antagonizing against itself.
That's not to say that council should "work well together." The "let's all get along," kumbaya view of politics is the last thing we need—the oft-stated hope that council will stop "bickering" is as wrong-headed as it comes.
Council is where political differences get played out. Vigorous debate and the battle of deeply held beliefs should absolutely be a part of council, and politicians should call each other out for what they see as statements or policies they think will hurt people. But in the past, sometimes those passions have lapped over into personal attacks that have gone too far. Here's hoping that will be ratcheted down a bit with the new council.