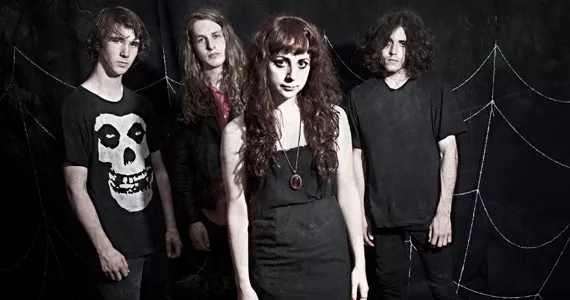 The powerfully eerie Eliza and the Strange.
For most, St. Patrick's Day means colourful binge-drinking and "Kiss Me, I'm Irish" swag but, behind the shamrocks, there are sinister sides to the fifth-century saint.
Enslaved in Ireland, St. Patrick eventually rose in the early Christian church, forcing the conversion of witches, pagans and Druids---doctrinal denials of mystical and feminine natural forces. St. Patrick may have cast a shadow over the emerald hills, but in the darkness are powers beyond human reason: creepy things give us the willies. So it feels right that voodoo rockers Eliza and The Strange will release their debut LP at Gus' Pub on Saturday.
On electric organ and vocals, Eliza White leads Jake Seaward (bass), Ian Bennett and Alex MacAskill (guitar), and Kenny Myers (drums) through powerfully eerie cemetery rock. On stage, Eliza and The Strange are like a séance, channelling the spirits of Louisiana folk magic in the figure of Jack White. Southern blues, after all, are haunted by sorcery and possession. The teaser track, "Baby Don't Be Nice," opens with a spooky carnivalesque melody before distorted punk bass and power drums kick in, like the heaviest parts of Band of Skulls.
"We love the tension, the crunch, the dramatic," says White. "I love drama, but I love being diverse in that. I love it to be quiet and intense and then we rock it to hell."
The live, raw quality of the LP, recorded mostly in single takes with Andrew Wiseman, is true to the band's interest in performance. "A live show is only one take, right," says Bennett. "And we all absolutely love to play live." White adds, "That's what we live for, that's our thing."
Ambitious and focused, the crew is tight like a coven.
Eliza and The Strange all met in the NSCC's intensive music arts program, where they developed skills in self-promotion and professionalism. They played their first show at Gus' last June and quickly decided to put out an album and plan a tour. "We're not very patient," says White, already thinking ahead. "We learned a lot from making this album, time-wise and financially, so we'll be better prepared for the next one, but we're so excited right now."
The release is the second of a 21-date traveling show filled with all-ages bookings, including on Friday at CD Heaven in Dartmouth.
"It's important that we play all-ages shows," says White. "We're young enough that a lot of our fans aren't 19 yet and what's better to do when you're a kid then go to rock shows? There's nothing better."
Playing days and nights also makes the most of their time on the road. Coincidentally, the band will be in Ottawa during Juno week. "We're playing a Juno no-case," says Bennett, who believes the atmosphere is a chance to learn more about the industry. "We're always learning, especially from experienced musicians, from the gatekeepers of the Halifax music scene."
Committed to exposure, the band decided that if you wear green to Gus', cover will be free. "I don't like to charge much," White says. "We just want people to come and listen." The self-titled album, available on vinyl and CD, is a companion to their strong vocals and enchanting stage presence.
"All of the songs have different vibes and stories," White says, "but they all share those really dark and heavy sounds." Come celebrate the more macabre moods of St. Patrick's Day with Eliza and The Strange.
Eliza and The Strange w/Cursed Arrows, The Bad Bad Bad Friday, March 16, 6pm, CD Heaven, 118 Wyse Road, 6pm, Free, all ages
Eliza and The Strange w/The Fed Pennies, Cursed Arrows, The Bad Bad Bad, Saturday, March 17, 10pm, Gus' Pub, 2605 Agricola Street, $5