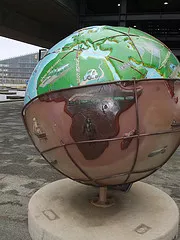 I asked Sierra Club Atlantic representative and Dal student Emily Rideout for her post-Copenhagen thoughts. What were her feelings about the conference and the outcome, and what's next for the climate movement? Here is Emily's response:

There was some progress made in terms of process that may help us create a real climate deal within the next 12 months, but in terms of the bigger picture, the world has failed to deliver, or rather developed countries have blocked progress to such an extent that a collective failure was inevitable.
People here were really looking to Obama to deliver a curve ball in the form of a significant target or at least an epic speech, but instead, he struck a weak deal, didn't change US targets and gave a luke warm speech that elicited boo's from NGOs gathered at the NGO convergence space. Now that we can no longer look to Obama for hope and inspiration, no one is sure where to look.
Personally, I'm hopeful, confident even, that we can get a deal by June at one of the intercessional meetings or at at the latest in Mexico city at COP16. The world can make a FAB [fair, ambitious, binding] deal a reality. I know it will happen, it has to happen, small island nations and Least Developed Countries will not stand for less. For me, it's not a question of if, it's a question of when.
At the global scale, we will keep the pressure on developed nations to act on their responsibility to mitigate their GHG emissions, I have no doubt of that.
I'm not sure where I'm headed personally in terms of climate change. In my naive dream for the COP outcome, I hoped that we would secure a good deal and that I could take a break from climate change action, organizing and reporting. Obviously, my dream didn't work out. People have put exhaustive amount of time and energy into this and it'll be a challenge to keep energy levels up. I'm working on my thesis and will likely take some time off to focus on school and debriefing from this experience.