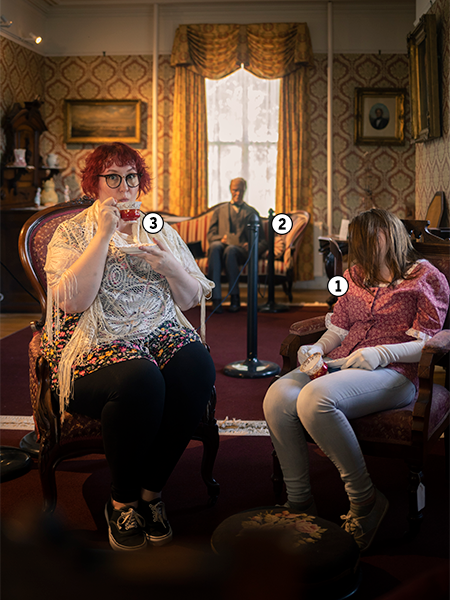 Evergreen Murder Mystery Night
Sat Aug 24, 7-9:30pm, Evergreen Historic House
26 Newcastle Street, Dartmouth
$25-$100

---
I t all started when Aries Casteel, a heritage interpreter at the Dartmouth Heritage Museum, was tasked with creating some seasonal programming. "I loved Evergreen House because it's an old Victorian home," Casteel explains. "I was inspired by a murder-mystery tea I went to in my old city in Alberta," she says, speaking by phone. Soon, a plan began to take shape: An old-fashioned tea at the historical Evergreen House, complete with sponge cake—followed by a whodunnit that sees guests play supporting characters aiming to solve the crime. "Originally we had planned for about 30 people but it kept selling and now it's double that" Casteel adds. Here, she breaks down what those who RSVP'd "yes" on their Victorian-style calling cards can expect:
1 "We have a lot of costumes in the collection [at the Dartmouth Heritage Museum] and we also have a dress-up room," Casteel shares. Main characters Lord and Lady Evergreen sport the most intricate, era-appropriate looks, but all the actors involved will be donning their freshest, 1850s-y threads, like these elbow-length gloves.
---
2 "I wanted it to be more Dartmouth-focused," Casteel says, explaining how she created character profiles for each guest. "There's a group of guests whose characters all own a skating company [inspired by the Starr Manufacturing Company, established in Dartmouth in 1861] to get a sense of the local history without being too specific."
---
3 "I was researching a lot about Victorian women and their high tea. There's a lot of protocol about what tea pots to use, what linens," Casteel says. "Like, for example, red tablecloths were for royalty only. I knew that the Dartmouth Heritage Museum had done other teas at Evergreen House in the past so I wanted to incorporate that."