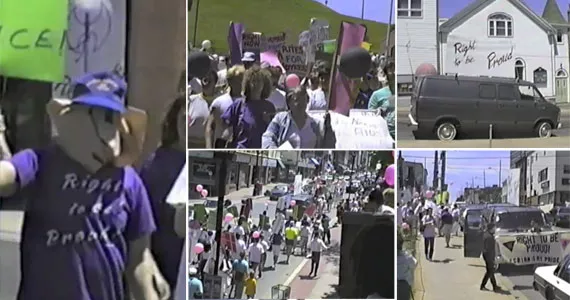 Anne Bishop | Jan Morrell
Photos taken from a YouTube video of the 1989 Halifax Pride parade.
For the tens of thousands of people who will congregate in the streets of Halifax this upcoming weekend, Pride will seem like a colourful celebration of sexual diversity. But in 1988, there weren't throngs of people lining the streets to watch and cheer. It was a political march, where close to 100 people---some hiding their identities by wearing paper bags on their heads---walked through the downtown core, protesting and chanting for their rights and for respect.
Chris Aucoin is a Halifax-based activist and runs the Gay Men's Health Project at the AIDS Coalition of Nova Scotia. He was also the program coordinator for GALA in 1990, a job that was created, he says, "Because they needed[...]a media spokesperson who did not have to worry about being fired the next day for being publicly queer."
Aucoin recalls the first few years of Halifax Pride being more akin to protests than to parades. He remembers marching in 1991 with a man he calls the love of his life. "I walked with him sitting on my shoulders for part of the route," he recalls.
Then, later that week, the province of Nova Scotia passed a new Human Rights Act bill that added sexual orientation to the list of things covered by legal protection from discrimination.
"As part of my job I had been actively involved with lobbying to get those changes made so I was pretty pumped by the news that we got---most of---what we wanted," Aucoin says.
As for his memories of other events, Aucoin points out that, "As one early community activist said, 'There were so many protests and marches and with the passage of time they all kind of blend into one.'"
Jim McSwain agrees. The filmmaker and artist was at many of the protests, including protests against the CBC in 1977 for not allowing gay community announcments on the air and against Canada Customs in 1979 for not permitting queer books to be delivered through the mail. "We did a lot of marches," he says. "They weren't parades. They were interventions, carrying signs. I think we were pretty brave at the time, and we knew that the world was moving on as far as sexuality and gender went."
After watching a recent YouTube video of 1989's protest/pride march, McSwain remembers: "Walking past a few stores and people shouting things at us from the doors, but it was rare. Today, it's more a vision of freedom, rather than a protest."
For 16-year-old Matty Alejandro, it's important to recognise that freedom and where it came from.
"Experiencing a pride parade is important for me because I work towards equality every day," he says. "I am expecting to see people celebrating another year of great accomplishments in the LGBT community."
Matty attended his first pride parade three years ago, and sees no reason to stop being a part of it. "I wanted to get involved for the simple reason that I am gay and I wanted to go to an event so I can be around people who are like me," he says. "It's amazing to go to pride and there will be 60,000 people in the streets. It lets you know, that when those 60,000 people leave, they are still in your city, and they support you."
As for his perception of the activism that fuelled the first few marches, Matty says it's still there. "I work towards equality in everything I do. I take every opportunity whether it be a parade to march in, or a rally to speak in and I use it to preach and hopefully inspire people to make a difference in the right direction."
"Visibility, individually and collectively, is what fuelled the progress that's been made over the past 25 to 30 years," says Aucoin. "While we have achieved lots of legal victories that does not mean the work is over."
Gender identity is not covered in the Nova Scotia Human Rights Act, Aucoin says, "So trans people are still in the same legal place GLB people were 25 years ago. There's more work to be done and Pride, and the visibility it brings, is one small part of that."