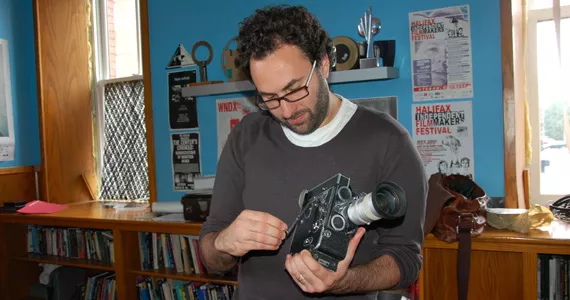 Solomon Nagler is working on a trilogy of short films tentatively called Gravity and Grace, but he's hesitant to talk about it in anything but veiled terms. He doesn't want to draw bad luck to his work-in-progress due next spring. Nagler, who's been making films since the late '90s, could be described as a Winnipeg, Montreal and Halifax filmmaker. In a sense, his films have metamorphosed with each respective city in which he's lived.
"I can sort of play all cards," says Nagler, whose office nestled in a corner on the first floor of NSCAD's film school is bursting with DVDs, cameras, film posters and paraphernalia.
His ever-evolving body of work has landed him a handful of descriptions, including "Jewish-experimental-filmmaker" for his trilogy about Judaism, Fugue Nefesh, The Sex of Self-Hatred and Perhaps/We. Not wanting to be pigeonholed, Nagler is admittedly "really into regionalism and how geography can inform your filmmaking." Beginning his fifth year as a film professor at NSCAD University, he says he's "almost considered a Halifax filmmaker."
Gravity and Grace, his first series shot completely on video in place of film, will mark a complete transition for him. It was partly completed this summer on rural Nova Scotian terrain, roughing it at the Diefenbunker, the Dataville art gallery outside Debert. Funded by a Social Sciences and Humanities Research Council grant, it's a narrative-based work about Africville, but the narrative might not be linear, it's more about "gestures and the way the camera interacts with space," Nagler says. He's still reluctant to divulge too much more about the piece, comparing his ever-changing script to a Rubik's Cube, with filming resuming this fall.
Nagler's most recent work, Black Saltwater Elegy is reflective of his geographical focus. Though his films are abstract---images and sound distorted and recomposed, sometimes in colour, other times in black and white---and not "diary films," they still contain partial autobiography. "Black Saltwater Elegy is really about Atlantic Canada."
His moves to Montreal, where he completed his masters in film production, and then Halifax, ushered in a change in style from his Winnipeg films (such as 1998's M.O.Y.). "It's sort of my perception of the changing light here, you know, where light gets much more diffuse, whereas in Winnipeg it's more about this high-contrast, sharp light."
For Nagler, who has a BA in philosophy, it's the thinker or writer he is engaged with at any given time---Ludwig Wittgenstein, Jacques Derrida and Simone Weil---that forms the groundwork for his new project. "Every artist needs that critical understanding to ground their work," he says. His four-minute Notes on Gesture---an abstraction of movement, slowed down to have the effect of a flip book---is a "visual essay" based on Giorgio Agamben's essay of the same title.
Just as environment and philosophy have influenced his work, so have his film students. Gravity and Grace is a joint effort between students---who are paid---and professionals. Collaborating with what he calls "newbie," but talented NSCAD students "slows you down in the right way," says Nagler. And as much as Nagler is enjoying the process, part of his reluctance to offer details is because he's unsure what the finished project will look like. "Pure cinema" is the goal. "I don't know if it's a leap up, down, backwards, but it's a leap of faith."