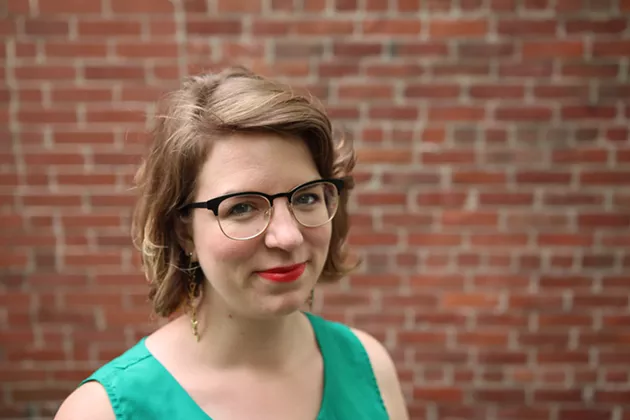 Eyelevel
's artistic director
Katie Belcher
is leaving the artist-run centre and relocating to Vancouver to become
Access Gallery
's newest director/curator in October. "It is difficult to leave after building my life here for fourteen years, but shifting to another coast feels reassuring somehow, and I have already been so welcomed by the community as the news spreads," Belcher says. "I'm keen to add to what I've learned out here, and stretch a bit more."
Belcher has run the Eyelevel since 2013, initiating the shift from brick and mortar gallery to spaceless artist-run centre, exploring experimental forms of art presentation. Along with the Eyelevel board, Belcher wanted to initiate "a return to our experimental origins, this approach has the potential to consider Eyelevel's relationship to site, emerging and local work, queer and feminist theory, and decolonizing practices. I'm inspired by our intention to articulate and embody an intersectional feminist politic with our program and structure." Belcher is also a founding director of HERMES, a non-profit commercial artist's cooperative, President of Atlantis (the Association of Artist-Run Centres from the Atlantic), a member of the steering team of the upcoming Flotilla and treasurer of the board of the national Artist-Run Centres Collectives Conference (ARCA).
"I'm excited to see what the individual vision of the new artistic director will add to Eyelevel's work. I've felt empowered to contribute my own character to Eyelevel and support others in doing the same—the idea for
Food for Thoughts
came from my own artistic practice, and its approach was really driven by project staff. It is because of new contributors that Eyelevel remains nimble and relevant after 43 years," Belcher says. "Although I'm sad to leave at such an exciting time, I also know that I'm leaving it in a great position. The board is supportive, critically engaged, and active, resources are improving, programming conversations are expansive, and we're moving forward with intention in this model. I feel so fortunate to have found this loving, challenging, and artistically thrilling place to stretch these last four years. It is the best time for someone to step in and help guide the next few years. I think they'll have fun!"
Eyelevel is currently seeking applications for the position of Artistic Director. Those who want to throw their hat into the ring are encouraged to apply before the deadline of Friday, August 11.
Full job details here
.