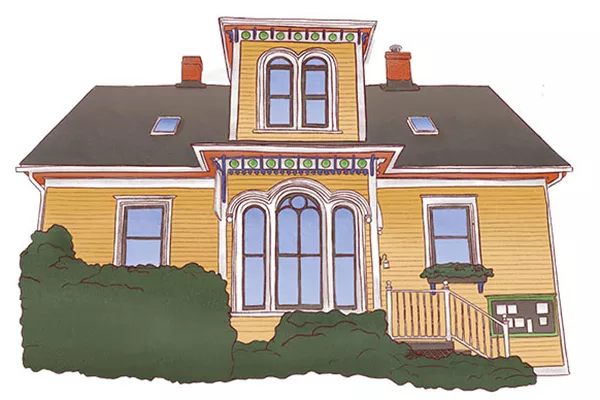 "On a day-to-day feeling, you go through all kinds of emotions. I haven't cried yet," says Martin Ruiz Salvador. "But there are a lot of people eating there for their last time. They're saying goodbye, they're thanking you, they're remembering their first meal there when it was just me and a dishwasher and Sylvie on the floor."
The chef/restauranteur is pulled over in a Frenchy's parking lot after a run to Adams & Knickle where he signed some of the last cheques he'll write for famed Lunenburg destination, Fleur de Sel. After 15 years of wooing folks to the south shore with their intimate, considerate, attentive brand of fine dining, Ruiz Salvador and his wife and business partner Sylvie have decided to close its doors on October 13 and sell the historic Montague Street building.
The Ruiz Salvadors—both of whom had experience working in Michelin-star restaurants in Europe—opened Fleur de Sel in 2004, garnering nearly immediate attention on a national scale and helping to shape and educate the palates of Nova Scotians.
"We were focused. We were like this is what we're going to do, and if it doesn't work—fuck it. We were putting out our ideas, from what we learned and saw, and wanted to be part of it," says Ruiz Salvador of he and Sylvie's commitment to remaining a hands-on part of the restaurant's equation all along. "It just comes down to loving it."
Over the past 15 years, the duo has opened four other successful restaurants in Lunenburg—the Salt Shaker Deli, the South Shore Fish Shack, The Half Shell Oysters & Seafood and Beach Pea Kitchen & Bar—all of which will continue on. But for Fleur de Sel, Ruiz Salvador says, it was just time.
"You get to the point where you feel—whether you have or not—like you've accomplished all you can with the restaurant. We've taken a lot of pride in what we've done food-wise and service-wise and the upkeep of the property. And not that there wasn't room to go higher, but we were happy and confident with everything we'd accomplished."
The pair
look
forward to spending more time with their young son Oscar, freeing up some space in their minds from the constant prep that comes with Fleur de Sel and shifting some of their focus to their other restaurants—namely their newest, Beach Pea Kitchen & Bar—together.
"Sylvie, she's the reason why this thing has been a success. Her dealing with the front of
house
and knowing everyone intimately and doing all the hidden work of bookkeeping, scheduling, juggling it all—christ, all I do is
cook
," says Ruiz Salvador. "She is the reason—I couldn't have done it on my own that's for sure."