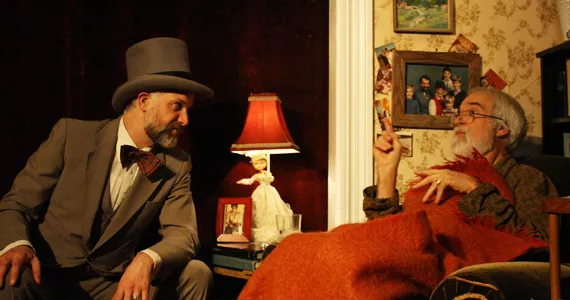 An ailing father and his actor son sit around a living room discussing life and death while attempting to perform vaudeville routines. This is the premise of Zuppa Theatre Co's Slowly I Turn: A Parlour Vaudeville in One Act, performed by real-life father and son John and Ben Stone and joined by Jess Lewis, third cast member, musician and production designer.
"The show came about because I was thinking, if I was going to die, what would I want to do?" says Zuppa co-founder Ben Stone. "And what I wanted to do was perform Hamlet in my backyard at my dad's house. I wanted to cast my family and direct Hamlet in the backyard in the woods."
Although it didn't end up in his backyard, Slowly I Turn was first performed in 2012 in Ben Stone's home, and took away two Theatre Nova Scotia Merritt Awards—for Outstanding Production and Outstanding Set Design. This time around, rather than replicate the original site-specific production, Slowly will tour small theatres across Nova Scotia, beginning at the Chester Playhouse on Friday, September 16, then onto Annapolis Royal and Liverpool before finishing the tour with four shows September 22-25 at the Music Room in Halifax.
Despite not being performed in a crowded living room, the distinct feeling is still intact that comes from watching family members perform together. It's a glimpse into private rituals made public. "When Ben and I lock eyes on one another," says John Stone, "I can't imagine two actors who are not related would see in those eyes what Ben and I see. It's quite intimate."
Despite its subject matter, and frankness in exploring death, audiences can expect to find some levity in Slowly, in no small part because of the natural father-and-son rapport between John and Ben. John is a schoolteacher and Ben is a professional actor; they both like to talk. "I wanted to create a play where I said, sang and did things that mean a lot to me, with my father, who means a lot to me," says Ben, "so we could do this thing together before he dies."
"It's sort of like putting the garbage out before you go away on a trip," says John.
"Or more like emptying the fridge of anything that may go rotten," says Ben.
"I like mine better."
---
Slowly I Turn: A Parlour Vaudeville in One Act
Thursday, September 22-Sunday, September 25
The Music Room, 6181 Lady Hammond Road